Arts
The Blues Brothers coming to Campbell's Heritage Theatre
The Official Blues Brothers Revue comes to Campbell's Heritage Theatre,
for a one-night performance.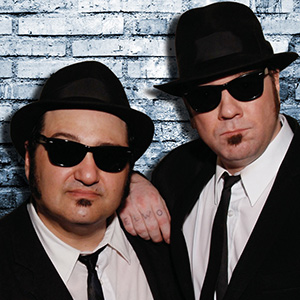 There have been many Saturday Night Live spin-offs over the course of the sketch comedy show's 40 years on the air. Plenty are forgettable—like A Night at the Roxbury and The Ladies Man. Some are tolerable in their quirky context. Coneheads comes to mind. Wayne's World, of course, is truly a gem.
But The Blues Brothers is straight up iconic.
The 1980 film, featuring John Belushi and Dan Aykroyd as Jake and Elwood Blues, is an American comedy classic, as well as a crash course in soul, blues, R&B and funk history. Ray Charles, John Lee Hooker, Aretha Franklin, James Brown and Cab Calloway all take their turn performing.
But The Blues Brothers were always meant to be more than a TV sketch and feature film. When Belushi and Aykroyd conceived of "Joliet" Jake and Elwood Blues the idea was that they would be leaders of The Blues Brothers' Show Band and Revue.
On Thursday, the latest iteration of this group—The Official Blues Brothers Revue—comes to Campbell's Heritage Theatre, for a one-night performance.
The band will be led by Wayne Catania (Jake) and Kieron Lafferty (Elwood)—each of whom were hand-picked by Aykroyd, Judy Belushi (John's widow) and Paul Shaffer, the show's musical director. The two leads will be backed by the Intercontinental Rhythm and Blues Band.
According to David Budge, the tour's publicist, the show picks up right where the film leaves off, without ever missing a beat. Even Catania, the man playing Jake Blues, bears an uncanny resemblance to John Belushi. "It's so spot-on, it's scary," Budge says.
The revue covers all the classics from the film, including "Soul Man," "Rubber Biscuit," "Sweet Home Chicago," "Gimme Some Lovin," and even "Rawhide."
"They are doing an encyclopedia of American roots music, which embraces blues, rock, soul, and even country & western," Budge says.
As to why the Blues Brothers have such staying power nearly 40 years after they made their original SNL debut, Budge says it is because the music connects with just about everybody—no matter how young or how old. "It's not a generational thing—it's a multi-generational thing," he says.
Or perhaps, it has to do with something more divine than that. After all, the Blues Brothers have always been "on a mission from God." —Nick Veronin
The Official Blues Brothers Revue
Thu, 8pm, $46
Heritage Theatre, Campbell