Arts
The Ritz Hosts Screening Party
for 'The Creature Video'
Santa Cruz-based skateboarding company presents eerie airs,
gnarly transitions, mayhem, beer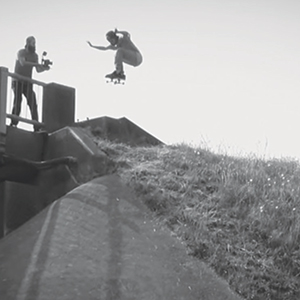 One of the gnarliest skateboarding companies around is premiering its new video this week at The Ritz in San Jose.
Known for its rough-around-the-edges but equally well-rounded approach to terrain, Creature Skateboards is currently crossing the country showing off its new full-length skate film, The Creature Video, including a special stop in San Jose.
More than two years in the making, The Creature Video brings together the team's (the 'fiends,' as they are affectionately known) wide variety of skills and styles in a mind-blowing display of skating prowess.
Featuring tried and true Creature team members, including transition master Darren Navarrette, criminally underrated Taylor Bingaman, and all-around miracle-maker David Gravette, The Creature Video also presents a platform for younger members of the squad to shine. Fresh faces like Argentinian street and bowl skater Milton Martinez and Norwegian newcomer Kevin B¾kkel both awe in their respective parts. But much of the credit for the engrossing video is owed to the imagination of team leader and art director Lee Charron.
What makes Creature Skateboards so compelling as a brand—or even more, a lifestyle—is hard to pin down. Combining a punk-rock anti-establishment ethos, with a more spontaneous approach to "big-air" skating, Creature could be considered both hesh and not at all.
For the uninitiated, "hesh" refers to an older skating style—if not a gang—of dirtier, wilder skaters who cut a purposeful contrast to the cleaner corporate types. "I don't think we are flying such a rough flag anymore, but internally, Creature is always hesh," Charron says, laughing.
"Technically, I am sort of the Creature brand manager, art director, and film director. I sort of do all of it", says Charron. Whereas most skate companies have different people for different roles, Charron sees the good and bad of his unique position. "I don't have to run things by people, so it's nice that it can kind of be my own vision," Charon says, adding: "but that also means it's a lot of work."
Charon has always been a jack-of-all-trades. After he started doing illustration work for NHS board company, eventually becoming the art director for Santa Cruz Skateboards in the early 2000s, he was given the chance to help revive the then-defunct Creature.
Originally an offshoot of NHS, Creature was started in 1994 by legendary skater—and now equally legendary artist—Russ Pope. But like many skate teams, the original members quickly moved on to greener, gnarlier pastures, forcing Creature back onto the shelf.
Then, in 2005, Lee Charron and friend/pro-skater Darren Navarrette set about bringing Creature Skateboards back to life. Now, more than a decade later, Creature has grown into one of the most recognizable and talented skateboarding companies—reinforcing the importance of rugged authenticity in skating as well as artfully navigating the transition into more mainstream exposure.
"When we started, I just wanted to keep it real small and make something that was really honest," Charron recalls. "Now here we are, 12 years later and the team's gigantic, the board line is gigantic. It's amazing, but it's definitely not something we expected."
One could call it luck—which no doubt plays a role—but that would be a disservice to the sheer force of talent of the Creature Fiends and the imagination of Charron. Known for its unique mix of transition and big-gap skating, punctuated by a Death-metal meets Big Daddy Roth aesthetic, Creature Skateboards can count itself among the handful of skateboard brands that have carved out a niche in the already pigeonholed skateboard subculture. "We're definitely not trying to be anybody else," says Charon.
"That's something that sets us apart," he continues, adding: "I see companies that have been around for awhile that are emulating whoever they can, when really I think it's about being honest. Honesty appeals to people."
As brand manager, Charron wouldn't give too much away about the new video. He did, however, suggest that besides a cameo from skate legend and longtime Santa Cruz rider Jason Jessee, it features "one of the craziest things I've ever seen."
The premier party will also feature DJs and drinking—natch.
The Creature Video
May 12, 8pm, $5
The Ritz, San Jose