Arts
The Duke, the Count and Me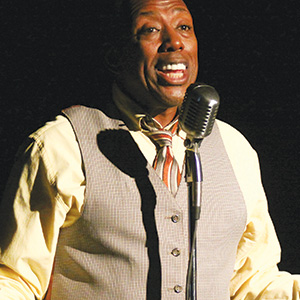 If VH1 can do it, why not a theater company? Tabard Theatre Company's latest offering, the world premiere The Duke, the Count and Me goes "behind the music" to offer personal glimpses of some of the key musicians who shaped American jazz.
The show, which runs through Nov. 23 in downtown San Jose, builds upon two real assets for Tabard: the company's longtime relationships with actor James Creer and the jazz musician Gus Kambeitz.
Creer stars as Sketch Hopkins, a fictional jazz musician, in this one-man show. The setting is after hours at a 1950s L.A. jazz club owned by Sketch. He sits at the piano and begins reminiscing.
Kambeitz served as the music director for The Duke, the Count and Me and also plays in the small behind-the-scenes jazz combo that provides backing music for Sketch's stories.
Sketch's recollections not only include meeting and playing with greats like Louis Armstrong, Count Basie, Duke Ellington, Fats Waller, Ella Fitzgerald and Billie Holiday, but also passing along their own personal histories: stories of how Armstrong ended up playing trumpet, how Basie got his name or how Fitzgerald got her start. The tales are punctuated by these legends' songs, or snippets from them.
The play meanders in its storytelling—sometimes tales overlap confusingly or it's not clear whether Sketch is discussing his own life or another musician's. Overall, The Duke, the Count and Me wants some tightening up and some balancing out.
Creer must carry the show, and he has the talent, the charisma and the pipes to do it, but the chaotic organization of the material lets him down sometimes. Having the onstage band stashed behind a curtain ended up causing, for me, a frustrating disconnect. I wanted to see Sketch—who, after all, talks about performing with so many great jazz musicians—interact with someone. The show is about more than big jazz personalities, it's about relationships—many of Sketch's stories describe how jazz musicians supported their fellow musicians and lent a hand in building each others' careers. Sketch may be left alone with his memories, but those memories seem too vivid to see him made to perform alone.
The Duke, The Count and Me
Tabard Theatre Company
Thru Nov 23
$10-$35