Arts
'The Great Pretender'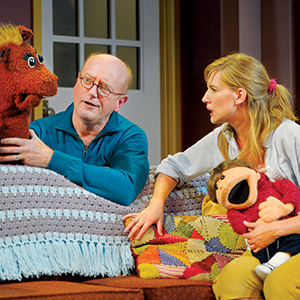 The Great Pretender opens to a television production set fashioned as a child's room. Toys sit on the shelves, polka dots cover an armoire and children's music plays softly in the background. At center stage, Mr. Felt (Steve Brady) a famous children's TV host, is conversing with his equally famous co-hosts, puppets Carol the Horse (Suzanne Grodner) and the androgynous child Francis (an exuberant Sarah Moser). But this scene is merely a memory, as Felt's wife, Marilyn, who once voiced the puppet Francis, is now dead, leaving the show's future up in the air.
The opening production of TheatreWorks 45th season, The Great Pretender, is a meditation on grief, which examines the process of coming to terms with tragedy through a combination of humor, pathos and puppets.
While cartoonish, stuffed effigies are more often employed to illustrate lighter fare, and while some of the play's scenes have an incongruous pacing or feel oddly rushed, ultimately the story, penned by David West Read and directed by Stephen Brackett, works in a fascinating way—tastefully juxtaposing the childlike innocence of the colorful puppets with heavier adult themes and crass, cynical language.
When Carol and the show's director Tom, (Michael Storm), offer up a possible replacement for Francis, Mr. Felt is far from thrilled. Reinforcing his reservations, he catches new recruit Jodi, the replacement performer for the Francis puppet, handling some of the props on the empty set.
But soon, Felt finds himself taken with Jodi, who idolizes the renowned television host, even if the consequence is putting up with her perpetual childishness. More so than her hero worship, it's her uncanny ability to do the voice of Francis the puppet—that is, of his late wife—that sparks Felt's interest. By contrast, Carol is immediately threatened by the new cast member, especially given her striking replication of Francis' original voice.
Felt takes Jodi under his wing, helping her understand Francis the puppet in a sad attempt to resurrect of his wife.
The dialogue is thoughtfully written, using the strengths and weaknesses of each character to great effect. Tom and Carol play off each other in a charismatically argumentative fashion, with Tom the straight man to Carol's foil. The pair also provides comic relief to balance Felt's introspective apathy and Jodi's childishness. Ultimately, the standout character is Grodner's Carol. With a strong and versatile performance, she leaves the audience unsure whether to root for Carol or hate her.
The Great Pretender's use of puppets as symbolic vessels help to portray complex themes proves potent and moving—and despite the obvious risk, never comes off as childish. This careful balance, combined with the strong influence of classic children's television programs like "Mr. Rogers" or "Captain Kangaroo," makes for an oddly harmonious production.
The Great Pretender
Thru Aug 3