Arts
TheatreWorks Stages the
World Premiere of 'Triangle'
TheatreWorks' newest production defies expectations, turning a terrible tragedy
into a funny and heartwarming study of love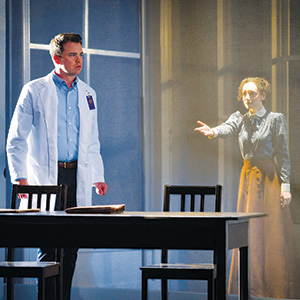 The incineration of 123 women and 23 men, in what remains to this day—more than 100 years on—the deadliest industrial disaster in U.S. history, may not seem like fodder for an inspirational musical. But TheatreWorks' newest production, Triangle, defies expectations, turning a terrible tragedy into a funny and heartwarming study of love.
Directed by Meredith McDonough and written by Curtis Moore and Thomas Mizer, Triangle was originally workshopped in Oklahoma before being fully developed at the TheatreWorks' 2012 New Works Festival. Now it is making its world Premiere at the Lucie Stern Theater in Palo Alto.
The show begins with a mournful prelude—an ensemble song in remembrance of the Triangle Shirtwaist Fire of 1911, a tragic incident that took place in a New York City garment factory. Nearly two-hundred workers, almost all of them women, perished—leading to important legislation regarding workplace safety that we still enjoy today. The set is appropriately minimalist and austere, marked by high ceilings and large windows.
The musical opens to doctoral students Brian and Cynthia (played by Ross Lekites and Sharon Rietkerk) at their office discussing work, before being interrupted by a stranger (played by Zachary Prince) to whom Brian becomes immediately attracted. As it happens, the two students work in the same building—on the same floor where the 1911 fire occurred, in fact—something the stranger is quick to explain.
Soon the memory of that tragic event begins to creep into Brian's psyche—to the point that it begins to transcend the rational thought that has grounded him as a scientist. Haunted by the songs of a long-dead worker from the old shirtwaist factory (Megan McGinnis), Brian is also exposed to the plight of Jewish workers. Moving between relationships and eras, in an office that is somehow a portal between past and present, Brian explores how love transcends time and anguish. And through the support of his insistent new friend and crush, he ultimately discovers what it means to risk it all for the sake of love.
Performances by all of the cast are sensitive and incredibly polished, as if the show has been running for years. Lekites plays Brian as an uptight, fastidious scientist—constantly soul-searching while being pestered by his fellow colleague (wittingly portrayed by Rietkerk). The flashbacks to 1911 also show the range of the other actors, especially Rietkerk and Rolf Saxon, who play their respectively irreverent and serious roles particularly well.
The versatility of the Triangle cast is impressive. Nearly all six actors play at least two parts—giving the musical an intimacy and cohesion, even as the plot toggles between 1911 New York and modern day.
The standout performance comes from Prince, a Broadway veteran, who brings a witty and diverse range, as well as a top-notch singing voice to two characters—the boss's son in the past and the mysterious stranger in the present.
Moods shift with the production's score, which includes acoustic ballads, anthems and jazz-pop fusion numbers. Triangle's music is fresh and innovative, yet familiar. The show's arrangements are energetic, varied and funny, but also just as quickly reflective and mournful. Many tunes bounce between lamentations and affirmations of the characters' insecurities and acceptances. Importantly, comic relief is always artfully added, and all of the musical's punchlines never detract from any particular song's vibe. It is a refreshing departure from the usual musical pomp.
Overall, Triangle is a strange show; experimental in subject, composition and design. But even with the irregularity of two opposite romances co-existing for the audiences, the progression of the plot is relatively conventional. This goes for some of the humor as well.
Although the focus on a real historical event gives the swirling plot a bit of a tether, it is certainly an odd choice, being one of the more horrifying events in American history. And while Triangle manages to bring both levity and emotional understanding to the tragedy through different perspectives, the event itself seems almost a placeholder. In this sense, the show is less about the Triangle Shirtwaist Fire than it is a funny, heartwarming exploration of how people deal with relationships past and present and the interplay between love, history and self-affirmation.
Triangle
Thru Aug 2, $19-$74