Arts
Burning Man Project Continues
with 'Ursa Mater'
'Mama Penny Bear,' a 12-foot-tall grizzly and cubs, comes to downtown San Jose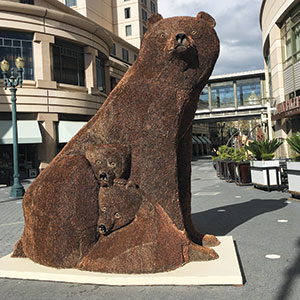 Up until March, San Jose was home to a popular public art installation by the Burning Man Project. The Sonic Runway attracted passers-by with flashing lights and waves of sound. The temporary installation was recently taken down, but the Burning Man Project isn't over. A new work, dubbed Ursa Mater, stands on Paseo de San Antonio next to the Fairmont Hotel.
Nicknamed "Mamma Penny Bear," the work depicts a grizzly bear and her two cubs. Their glossy eyes and noses might catch someone's attention from a distance, but a closer look reveals an interesting twist. The bears' coats are composed entirely of pennies—about 200,000 of them.
"I like pennies because they're whimsical and they're cheap to get," says Lisa Ferguson—who, with her husband, Robert, create under the moniker Mr. and Mrs. Ferguson. "These pennies have all been in people's pockets and purses throughout the country; they've traveled a long way. Each of them can tell a story."
Mr. and Mrs. Ferguson are based in Hayward. Robert Ferguson is a Bay Area native, while Lisa Ferguson was born and raised in Canada. She moved to the area in 2015 after meeting Mr. Ferguson at Burning Man. With the help of 12 volunteers, they built the 12-foot-tall statue for the annual desert gathering.
The mother and her cubs will be in town until the end of May and can be viewed anytime. Although this is the first time the San Jose community is getting a close look at this sculpture, Mr. and Mrs. Ferguson have created coin pieces before.
The first was Penny the Goose, a 16-by-19-foot goose made up from 120,000 Canadian and U.S. pennies. The piece was created in 2013 and was modified in 2015 with U.S. coins.
"When we first starting making these things we didn't know what the reaction would be," Mrs. Ferguson says. "It resonated with people; we're very happy with that."
This year, Mr. and Mrs. Ferguson will be sticking with a coin theme for the upcoming Burning Man festival. The two are working on a bald eagle made of pennies, nickels and dimes. Built to strike its prey, the bird will be purposely staring right into the eyes of the viewer.
Ursa Mater
Thru May 31
Paseo de San Antonio, San Jose
mr-and-mrs-ferguson.com