Arts
Seven Years of the Art Box Project
For going on a decade now, Silicon Valley artists have been beautifying the bland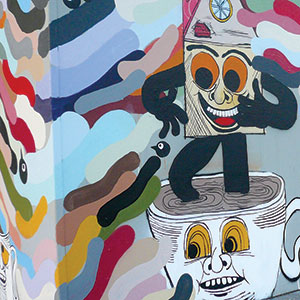 Since 2011, the Art Box Project San Jose has been giving local artists the opportunity to breathe life into street corners all across Silicon Valley. In the process, these artists have made original masterpieces out of boring utility boxes, those clunky, gray rectangular eyesores that house electrical wiring on sidewalks.
After almost seven years, and contributions from dozens of artists, it's hard to imagine the city without them. To show our appreciation, we got the story behind seven noteworthy pieces.
Sarah Joy Cabana
Bernal Road & Via Del Oro
While preparing ideas for this project, Bay Area artist Sarah Joy Cabana was coping with a murder and three suicides within her own immediate community. She found solace and inspiration by channeling the creation story from the Bible's Book of Genesis, where light is said to be separated from darkness. Sponsored by Gateway Community Outreach, Cabana spent around 40 hours with this project before it was finished in January 2016.
Amine Rastgar
Lincoln & Curtner avenues
Amine Rastgar first got in on the project in 2012, taking an abstract, psychedelic approach where anthropomorphic houses (meant to resemble the homes of Willow Glen) are swimming in coffee, with a pattern of colors floating like a school of fish in the background. But after it was vandalized in 2015, Rastgar took a different approach, hoping to, as he says, reflect the "village-like feel of Willow Glen" and "tell the story of a community."
Laurus Myth
10th & Keyes streets
For this piece, artist and San Jose native Laurus Myth drew inspiration from Coyote Creek and the Clean Creeks, Healthy Communities Initiative. The project itself was sponsored by the Environmental Services Department's Clean Creeks Program. Here, Myth takes Silicon Valley's notoriety as the world's technological epicenter and blends it with the natural splendor that is the Santa Clara Valley. All of this is conveyed through a dichotomy of lucid colors, which depict a layer of cool water against a warm sunset.
Laurus Myth
Meridian Avenue & Curci Drive
This project, sitting in front of a retirement home near the Los Gatos Creek Trail, was sponsored by a private investor who wanted the box beautified for her mother. Another work by Myth, the piece was inspired by the surrounding community that welcomed her as she worked. She said she wanted to incorporate "the natural colors of the neighborhood while representing the seeds of possibility," and that the box is a "direct result of individuals wanting to make a difference, even in a small way."
David Mejia
Market & St. James streets
When San Jose artist David Mejia was asked to work on a box posted outside the courthouse in the heart of downtown, he was told keep things on theme. But as he researched different courtrooms online, all he found were images of drab rooms with horrible lighting—exactly the opposite of the mission of the community project. So he searched for courtroom dramas instead, and found inspiration from movies like The Verdict, where the courtroom had a dark wood finish with dynamic lighting.
Mireya Villanueva
Scott Street & Bascom Avenue
On the first day she started her project, way back in 2013, Mireya Villanueva had the cops called on her when a local business owner thought she was vandalizing the utility box. Obviously, she was doing nothing wrong. And eventually, after her vision for the box began to take shape, the owner's opinion of the project shifted. Villanueva found inspiration in the children of the neighborhood and wanted to produce something that would help put a smile on everyone's face when they saw it, so she went with a bright and colorful circus theme.
David Canavese
Campbell & Union avenues
When he heard that Campbell was taking submissions for a prospective box, David Canavese jumped at the chance to participate. He wanted to experiment with narrative artwork by using pixel art—or what calls telling a story through "a Mario-like, sidescroller format." His work playfully shows us what it'd be like if aliens came to Campbell, incorporating local landmarks like Gower's National Bank Building, the Campbell Water Tower and Highway 17 Portals Project, before construction on it began. Canavese had to enlist the help of dozens of his friends to help fill in each square, sometimes working 12 hour days. Altogether, the project took about three months to complete.