Arts
'Permanently Improvised' is
Dadaist Propaganda
New Anno Domini exhibit melds street art with the style of Soviet political posters.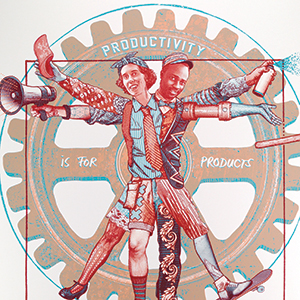 Anno Domini has a knack for finding innovative and thought-provoking artists from all over the world. But more importantly, the gallery also manages to get those artists to display their works here in San Jose.
Gallery AD's latest show is 'Permanently Improvised' by Various & Gould, a Berlin-based street artist duo. A selection from an ongoing series by these two artists entitled 'Rabotniki'—Russian for 'workers'—the show is a vivid collage-like exploration of the beauty of everyday life, with an emphasis on the working man's experience.
Although it seems almost digital, all the work in 'Permanently Improvised' is handmade, and in many cases, to an incredibly detailed degree. Using mixtures of acrylics, spray paint, and elaborately arranged cut-outs of screen prints, Various & Gould creates expressions both of the common and the abstract. The show is also a subtle homage to the Dada and Surrealist movement, which saw its unofficial 100th anniversary this year. Coming from a background of visual communication, Various & Gould are inspired by everyday life—'by politics, society, the news you hear,' says Various & Gould. 'We wanted to do something that reflects our society.'
Aesthetically, the work in 'Permanently Improvised' harkens back to Soviet-era communist propaganda posters. A patchwork of faces and ordinary objects, like sewing machines and shoes presented in bold, vibrant colors, the pieces in Rabotniki are like the refined articulation of dreams. A cast of characters (V&G's real friends and family) appear regularly, creating a continuity that runs through the entire show.
Much like Gallery AD's owners and founders, Cherri Lakey and Brian Eder, Various & Gould are both working artists and a couple. Although Various was actually born in Palo Alto, she and Gould grew up in divided Germany, and they met at the Berlin Weissensee School of Art. This is their the first solo exhibition at Anno Domini and their first show on the West Coast. Although Various only lived a brief time in the Bay, 'doing a show in San Jose felt a bit like coming home,' he says.
Notable pieces in the show include Handle With Care, and Rabotniki (Pipe). But it's the triptych Current I, II, III, that is the standout of the show. Taking a collage-like foundation and extending it with visual kineticism, "Permanently Improvised" provides for a striking, yet intimate, visual experience.
Permanently Improvised
Thru Jun 18, Free
Anno Domini, San Jose