Arts
Review: The Tabard Theatre's 'Violet'
The Tabard Theatre's 'Violet' is a rousing spiritual journey in song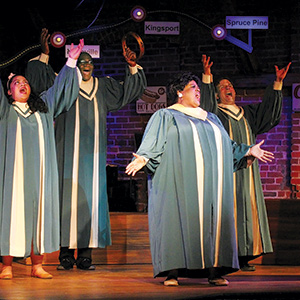 A rousing score, soaring harmonies and an ugly-duckling story of sorts prove a successful combination in Violet, the Tabard Theatre Company's charming new musical production.
The name "Tabard" refers to Chaucer's Canterbury Tales, a collection of stories narrated by a group of men and women on a religious pilgrimage. Violet, based on the short story The Ugliest Pilgrim, by Doris Betts, is thus a very fitting choice for the company. The "pilgrim" in this 1964-set piece is Violet (Jocelyn Pickett, and in younger flashbacks Ginger Hurley). Disfigured by the facial scar she incurred during a childhood accident, she's had enough of her lonely rural life and has saved up her money for the Greyhound Bus journey from North Carolina to Tulsa, Okla. There she'll meet up with a televangelist (Shawn Bender) whom she believes has the power to heal her scar or possibly even grant her an entirely new face. Along the way she encounters two soldiers—dumb-but-cute Monty (Adrien Gleason) and the more thoughtful Flick (Anthone Jackson) who, as an African-American man in the South, is also used to being judged by the state of his skin.
Though Violet spends much time bemoaning her appearance, both soldiers find themselves attracted to the sassy-but-naive young woman, and a night out on in the town in sultry Memphis sets the stage for a love triangle. There's something Wizard of Oz-like about Violet's road trip to find a magician of dubious powers. We, like the soldiers, know from the start Violet's quest for a physical miracle will likely not end how she imagines, but hope that perhaps healing isn't out of reach.
The story of Violet (lyrics and book by Brian Crawley) is slim, and there are elements that could easily slip into cliche (early-'60s racial tensions and Vietnam War foreboding; Southern-fried accents; the hillbilly father with his hatchet; the slick preacher). We all know beauty is more than skin deep, etc. The strong cast and Jeanine Tesori's music, however, with its diverse blend of bluegrass, gospel and R&B, elevates the show to the realm of the sublime. Song highlights include "On My Way" and the exhilarating "Raise Me Up," during which the gospel choir stamps, claps, and amens its way in and out of the audience, with vocals heavenly enough to make a believer out of anyone.
In her title role, Pickett has a Reese Witherspoon-ish quality and a pure, lovely singing voice—mercifully free of over-the-top histrionics. Her Violet is wounded yet feisty, an interesting heroine worth rooting for. And vocal powerhouse Jackson drew cheers with each of his big numbers. While the script suggests the character of Monty is meant to be a hunky seducer, Gleason's portrayal is more boyish yokel than Casanova. I especially enjoyed Hurley's winsome performance as Violet's younger self. Hurley has a wonderful voice well suited to the country style of her songs, and a natural, graceful stage presence.
Supporting the principles are a fantastic batch of actors who shine in a variety of small roles, each taking on multiple characters and enjoying featured moments throughout, including Bender's mesmerizing turn as the preacher, and Juanita Harris, Anaseini Katoa, and Ruth E. Steins as too many characters to name. You'll notice and remember all of them.
Some technical difficulties with the sound system led to a few distracting moments of feedback and static, but the on-stage band, consisting of a violinist, guitarist, percussionist and two keyboardists, is great (even if the lack of bass guitar was initially concerning).
Part of the pleasure in attending a performance of Violet is the Tabard experience itself. With brick walls and exposed beams, the second-story performance space in downtown San Jose offers comfortable seats and tables with plenty of room, and a well-stocked concessions area, from which patrons are free to snack and sip throughout the show. There are even special cookies and drinks to fit the current production's theme. And a portion of concession proceeds goes to support a local nonprofit.
The Violet set is bare bones—a bus-route map, some basic furniture. Costumes and props are simple, too. This suits the venue, allowing nothing to get in the way of the compelling performances and music. Though it was well received on Broadway, Violet is a great choice for a smaller stage, and, as directed by local-theater veteran Jay Manley, a perfect one with which to end Tabard's current season. Hallelujah.
Violet
Apr 17-May 3, $15-$38
Tabard Theatre Company