Arts
'West Side Story' at City Lights
City Lights Theater's 'West Side Story' is sharp as a switchblade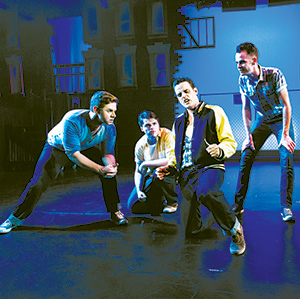 West Side Story is better than Romeo and Juliet. That's right, the midcentury musical masterpiece is greater than Shakespeare's quintessential romance, and San Jose's City Lights Theater Company mostly does it justice with its lively, intimate new production.
Most theater fans are probably already familiar with the show—the Bard-inspired plot, the breathtaking music (by Leonard Bernstein and Stephen Sondheim), and Jerome Robbins' choreography. That ominous whistle. The haunting tri-tone of "Maria." Who among us hasn't gone snapping, twirling and kicking down a city street in tribute? Just me?
Uh, anyway, West Side Story takes Shakespeare's wealthy feuding Italian families and transforms them into rival teenage gangs in the 1950s slums of New York. The Jets, led by wild-eyed Riff (Josiah Frampton), are native New Yorkers who clash with The Sharks, recent Puerto Rican immigrants led by Bernardo (Nick Rodrigues). Shiftless rebels without a cause, the disaffected youth see no hope for their futures and must channel their energy into bravado, sex and turf wars. Fighting over their meager territory, the other common ground they share is a mutual distrust for grown-ups, especially doltish Officer Krupke (Howard L. Miller) and menacing Lieutenant Shrank (Frank Swaringen). Things get complicated when Bernardo's innocent younger sister Maria (Katherine Dela Cruz) arrives in town and falls in love-at-first-sight with dreamy Tony (Max Jennings), Riff's best friend. Star-crossed-lovers spoiler alert: it does not end well.
Romeo and Juliet were doomed by fate, Tony and Maria by society. While Romeo and Juliet is a classic tragedy full of dramatic irony and the folly of suicidal, impetuous youth, West Side Story is a messier and uniquely American story of modern love and racial tension. It's also much more moving, with a true heartbreaker of an ending. But it wouldn't work without the music (classic songs include "Tonight" and "Somewhere") and the snappy, beatnik rhythms of the dialogue, which manages to sound pleasingly cool and corny at the same time.
City Lights has a small theater and proves that, although it's a "big" musical in terms of importance, it can be done well in a scaled-down arena. There are many strong performances to commend here. Dela Cruz is ideally suited to the role of Maria, with an angelic, soaring voice. She outshines Jennings as Tony, who's sweet but struggles to reach some notes in his vocally challenging role. The juiciest parts belong to Danielle Mendoza as Bernardo's sassy girlfriend Anita and Frampton's Riff. The splendid duo delivers my two favorite performances—commanding attention in every scene in which they appear. Mendoza does not disappoint in her syncopated, sassy number, "America". Frampton is a live wire with real star quality as the tough-talking head Jet. Other standouts in smaller roles include William Corkery as Baby John, the naive Jet, and Melissa Baxter as the desperate-to-be-accepted tomboy Anybodys.
City Lights does a great job of portraying the disconnect between the teen characters and the hapless adults, whether they be kindly, like drugstore owner Doc (George S. Gamette) or villainous, like odious bad-cop Shrank (fun fact: actor Swaringen is actually a retired member of the San Jose police force). Doc attempts reach his young customers with "when I was your age" platitudes, only to be rebuffed ("You was never my age, none a you! The sooner you creeps get hip to that, the sooner you'll dig us"), while the bigoted Shrank's words resonate chillingly in today's world, where issues of race and police brutality still loom large. As he remarks to the Sharks, "I got the badge, you got the skin." The rift between youth and adult society is best exemplified by the bitingly funny "Gee, Officer Krupke" number, handled deftly by Sean Okuniewicz's Action and his Jets.
Ron Gasparinetti's set design is simple and effective: Silhouetted fire escapes and chain-link fence against an ominous sky. A few pieces of furniture are ingeniously repurposed to make a multitude of set pieces, and Melissa Sanchez's costumes are casually appealing—retro in style but not overtly so, adding a sense of timelessness. One drawback of staging West Side Story in a small space is a lack of room for an orchestra. City Lights opts for pre-recorded backing tracks and the energy that comes with live music is definitely missed.
On the whole, City Lights proves up to the task of bringing West Side Story to contemporary audiences, and anyone should jump at the chance to see it on stage, where it still brims with vitality more than a half-century after its debut.
Thru Aug. 23
$17-$30