Arts
Worldcon 76 Lands the
Ship in San Jose
The longrunning sci-fi convention comes to the McEnery Convention Center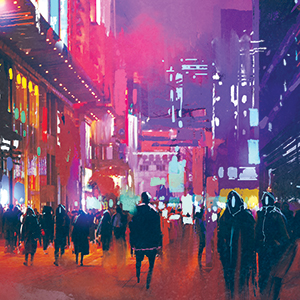 When Maria Arena woke in a vat of fluids, she couldn't remember how she died. That is, how she died this time. For a clone like Maria, death is just a part of life. It is, at least, in Mur Lafferty's sci-fi mystery Six Wakes.
Released in January 2017, Six Wakes is one of six books nominated in the Best Novel category for this year's Hugo Awards. For science fiction writers, there are few prizes more prestigious. A list of previous winners reads like a who's who of the genre: Alfred Bester, Philip K. Dick, Ursula K. Le Guin, Isaac Asimov. To be named a Hugo winner is to enter the pantheon of seers and dreamers whose works have shaped the imagination of readers all over the world.
The winners of the 2018 Hugos will be read this Sunday at the McEnery Convention Center in San Jose. The awards ceremony is part of Worldcon 76, the annual convention of the World Science Fiction Society, which begins this week and runs through the weekend.
"I describe it as the World's Fair of science fiction," says Worldcon 76 chairman Kevin Roche. "There's nothing else in the world that looks like this."
He's right about that. Worldcon was one of the first fan conventions in history, and with four notable exceptions (all due to WWII), it has been running consistently since 1939. In addition to naming Hugo winners, the convention features art shows, a cosplay masquerade, writer's workshops and lots more. George R.R. Martin is usually among the crowd. Guests of honor this year include artist John Picacio, Bay Area author Chelsea Quinn Yarbro and reclusive sci-fi legend Spider Robinson.
For sci-fi and fantasy fans, it is the central event of the community, which is what made what happened with Bogi Takács so unfortunate.
Takács is a Hungarian Jewish sci-fi writer up for a Hugo this year. They're also a non-binary trans person who requests to be referred by Spivak pronouns (a set of non-gendered pronouns popularized through gaming). So when Takács' Worldcon profile went online full of masculine pronouns (something the author never uses), they were understandably upset.
Takács' public statement on the matter brought forward concerns from other authors who felt their experiences were taken lightly. Soon, authors Charlie Jane Anders and Annalee Newitz pulled their panels from the convention.
It's not the first time Worldcon has found itself the site of a schism. In it's very first year, the convention blocked participation from a group of left-wing writers (including a 19-year-old Isaac Asimov) for being too political. And while 2018 has been a year of bad apologies, Roche's response was full of contrition, and seems to understand that the only way to build the future is through atoning for the past.
In a statement titled "We Will Do Better," the chairman wrote, "I am sorry we slighted and angered so many of the people we are gathering to meet, honor and celebrate. This was a mistake, our mistake."
Shortly after the apology the convention's preliminary programming was taken down from the website. An effort, led by previous Hugo winner Mary Robinette Kowal, was made to ensure that Worldcon wasn't alienating members of the community.
"When Mary offered, I accepted her offer with full confidence," Roche says over the phone. "That's what was so horrifying to me about the whole incident on Twitter. In fact, we were working very hard on a diverse program reflecting intersectionality."
After a little soul-searching, Worldcon has done its best to be accessible to all. And with the event just around the corner, fans all over are again looking forward to the celebration.
"I still believe that Worldcon is a place where we meet in comity," Roche says. "We might argue, but we still have the sentimental belief that together we can make things better, that we can make the future the way we want it to be."
Worldcon runs through Monday, Aug. 20. Tickets start at $50 and run up to $250.
Worldcon 76
Aug 16-20, $50+
McEnery Convention Center, San Jose
worldcon76.org