Arts
XXmas: The Christmas Ballet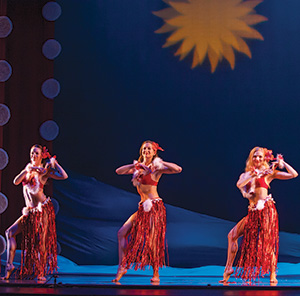 We all love The Nutcracker, but at the same time it's unfortunate that holiday ballet is so bound to the rigidity of tradition. Smuin Ballet has a solution to this problem, and it involves snow breakdancing. Where have these people been all my life?
Okay, the breakdancing didn't come until the very end of last Friday's performance of XXmas: The Christmas Ballet at the Mountain View Center for the Performing Arts, when the cast got to freestyle in a blizzard of stage snow. But it was the perfect capper to a show that started out firmly planted in tradition, but by the end had exploded out of whatever box of preconceived notions has been constructed by the cult of Tchaikovsky.
Act 1, subtitled "A Classical Christmas," drew mostly on traditional carols for its soundtrack, with some recognizable Bach and Handel. Simple in design, with stark white outfits and a style that freely mixed deco and Renaissance romanticism, it offered the opportunity for a purist appreciation of movement without the usual Christmas cliches. Bay Area native Erica Felsch shone in her "Zither Carol" solo piece, with sweeping movements that unfolded beautifully across the stage. Jo-Ann Sundermeier was equally impressive soloing in "Ave Maria," and the whole company came together for a stunning finale.
But Act 2, "Cool Christmas," showed Smuin at its best. Every piece—each centered around a modern holiday tune—not only featured grabbing choreography, but actually told a story. "Blue Christmas" had a very funny Joshua Reynolds clowning around as Elvis himself while female dancers literally threw themselves at him, and "Christmas Island" even worked in surfers and sharks.
But the best piece of the night by far was the amazing take on "Santa Baby" that had Felsch standing in for Eartha Kitt, with the men of the company rolling her across the stage like wheels as she laid across them. Sultry, sexy and full of surprises, it was a perfect showcase for the talents of the Smuin company. These are dancers and choreographers (including choreographer-in-residence Amy Seiwert, and guest choreographers Robert Dekkers, Val Caniparoli and Robert Sund) whose artistic vision and versatility is as important as their technical skill.
In re-inventing the Christmas ballet show, they've struck a decisive blow against the holiday doldrums.
Smuin Ballet finishes its run of XXmas: The Christmas Ballet in San Francisco, thru Dec 28. The Smuin company will return to the Mountain View Center for the Performing Arts March 19-23 with their show XXtremes. smuinballet.org.