Arts
The New Spider-Man
YA novelist Jason Reynolds talks creating black super hero at Kepler's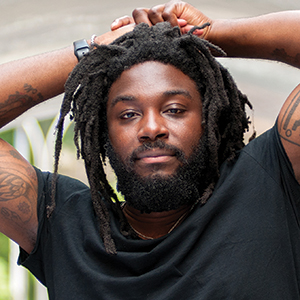 Please note the inside joke from Spider-Man: Homecoming, making up somewhat for the rotten Easter-egg Captain America tossed at us at the end of the film.
What a big nerd-chuckle in the theater it was when Donald Glover showed up. He played Aaron Davis, a minor criminal Spider-Man did his worst to interrogate. Davis gives up the info Spider-Man was pathetically trying to scare him out of. He, Aaron, wants The Vulture and his space-weapons off the streets. After all, Aaron's nephew lives in the neighborhood.
Chuckle, said the fanboys. They knew the nephew was a sly reference to artist Sara Pichelli and writer Brian Michael Bendis' comic series Spider-Men, which finds Peter Parker and Miles Morales uniting as a multi-culti web-slinging duo. More chuckle fodder: Glover had even done the voice of Morales on a Disney-animated show.
After Peter Parker turned up dead—dead for a while, anyway—a radioactive spider chomped Morales, a 13-year-old Brooklyn boy of Afro-Hispanic descent. The new heir to the cowl and webshooters is now the subject of a young-adult novel. Miles Morales: Spider-Man is by the distinguished Brooklyn writer Jason Reynolds, the National Book Award finalist behind Ghost and When I Was the Greatest, among other titles. Miles will be published Aug. 1, and Morales is coming to Kepler's Books the following day for a discussion.
Reynolds is recognized for penning books for young adults that address the hard subjects of race, prejudice and injustice in America—drawing upon his background as a person of color to inform his tales.
Growing up black in a poor Washington D.C. neighborhood—in the midst of the crack and AIDS epidemics—Reynolds wasn't a big reader. When he was young, there weren't many African American heroes in literature for him to find, and it was rarer still to find young adult fiction with protagonists that looked like him.
In a recent interview with the School Library Journal, Reynolds said he felt it was important that this rebooted Spidey has darker skin under his spandex—and not only because it will give legions of young comic book fans of color someone to relate to. It also gives the Spider-Man series the chance to deal with themes that wouldn't necessarily have made sense when Peter Parker was the man behind the mask.
In Reynolds' telling, issues of survivor's guilt, the cycle of poverty and the allure of the streets are all explored. "This is the part of Miles's story that matters most to me, what makes him real, because this is the story of so many of the potential teenage superheroes in our neighborhoods and schools," Reynolds told School Library Journal.
Morales is now the official Spider-Man in the Marvel Comics universe—Spider-Man without an asterisk, as Bendis put it. By keeping Morales urban, Marvel is doubling down on the best idea in Spider-Man: Homecoming, which is to pose Spider-Man as a municipal hero instead of an international Avenger.
Morales will also be Spider-Man again in an as-yet untitled full-length animated movie due in December 2018, with Mahershala Ali of Moonlight voicing Aaron Davis and Shameik Moore performing the voice of Spider-Man.
The original idea of a Spider-Man of color came because of Marvel's belief that Obama was leading us into a post-racial America. Morales outlasted Obama, defying the now-fading moans of the kind of fans who lose a little bit of their childhood—nay, their souls—when a black Batman is hypothesized, or when Doctor Who turns into a girl.
Such fans ought to be reminded that Spider-Man has been Japanese and Turkish already: check YouTube to see the awesome awesomeness of Japanese and Turkish Spidey. Would a sensible person care what race Our Hero was, as long as he stays half-spider?
Jason Reynolds
Aug 2, 7pm, Free
Kepler's Books, Menlo Park
keplers.org