Arts
New Zine Project Seeks to
Prove SJ is Literary Power
Think & Die Thinking, Cheers From the Wasteland and Silicon Valley
De-Bug are teaming to host a 'Summer of Discontent.'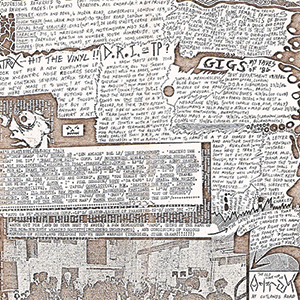 The history of zine culture is a history of resistance. For about as long as the novel has been around, political dissidents, cultural outcasts and the institutionally overlooked have all used self-published small run magazines (or, zines) to reach and sway a wider audience. Reagan-era punks, Russian anti-Soviets and golden age sci-fi authors have all used the format to great success.
Even Walt Whitman's Leaves of Grass arguably started as a zine.
This summer, three of San Jose's most proactive cultural institutions—DIY punk collective Think & Die Thinking, literary journal Cheers From the Wasteland, and alt-entrepreneurial group Silicon Valley De-Bug—bring us Summer of Discontent, a three-month long zine initiative that aims to unite all of the disparate voices of our city.
"A lot of D.I.Y. events are centered around music and musicians, which is cool, but we wanted to open up the space more for other people," says Rich Gutierrez, of Think & Die Thinking. "It can be really disheartening living here at times. It's changing really fast and the city seems to be going in a direction that is silencing our histories. A lot of folks are feeling pushed out and unsupported."
As the ghoulish skeletons of impending condos rise all around us, Gutierrez's statements seem empirically true: San Jose is actively silencing its history in favor of big moneyed interests. The city has become entranced by the digital, as though the decision makers read a copy of Neuromancer with all of the dystopian aspects redacted.
According to its Facebook Page, Summer of Discontent "serves to document our experiences and record our collective histories through self-publishing." Anyone and everyone in San Jose is encouraged to write, create, and submit a zine to the initiative. Zines can be on virtually any subject—from diary-style personal narratives to photo books, political writings to how-to guides.
The format for zines is also extremely open. Submissions can be made of any size (though the half sheet of printer paper is somewhat standard), and have no requirements for word length or even language. It is a radically open initiative, empowering anyone whose voice has been paved over in our hyper-gentrifying city to speak out through the cracks.
"I hope to stay away from corporation sponsored events," says Gutierrez. "A lot of events in the South Bay can seem like they are kind of riding alongside the gentrification, sadly."
He's right about this. While events like C2SV have brought bands as big as The Stooges to San Jose, they've come with numerous speeches from tech CEOs, corporate suits and panels espousing the use of drones, self-driving cars, and all of the technology that is quickly replacing the humans of San Jose.
The groups presenting the Summer of Discontent have a radically different vision of how life here could be. Gutierrez: "I would love to see more events planned, facilitated, sponsored, run, promoted and enjoyed by the people of our hoods. It would be great to have more events have a focus on youth accessibility and always have marginalized folks at the forefront of support."
Submissions for the Summer of Discontent are open until June 20. Those with something to say about this town, its community, life and personal beliefs, are encouraged to submit before then. To help lend support to those interested, Think & Die Thinking is hosting a free zine making workshop in the courtyard of Seeing Things Gallery on June 12.
Then, on Aug. 27, the release party for Summer of Discontent will take place at Silicon Valley De-Bug. Each participant will receive 10 zines by other participants as well as 10 copies of their own. Everyone will have a chance to share with local creators, meet fellow members of the community, and table and sell their creations. And in case that sounds stuffy, it's also billed as a dance party.
More info can be found at: cheersfromthewasteland.com/summer-of-discontent-2016.html
Summer of Discontent
Zine-Making Workshop
Jun 12, Free
Seeing Things Gallery, San Jose