Arts
Autobiography of Mark Twain
Mark Twain's autobiography speaks 'frankly from the grave'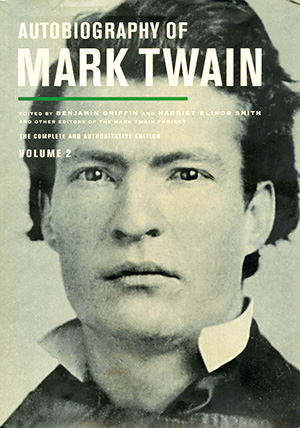 From Ulysses S. Grant to Helen Keller, from Bret Harte to King Leopold II of Belgium all the way to one Olive Logan—very little of 19th-century American life escaped Mark Twain's omnivorous and sometimes withering attention. Many of the names in UC Press's recently issued second volume of his autobiography ring memory's bells—some more faintly than others. Who, for instance, was Ms. Logan?
In a prescient miniprofile, Twain recalls a time in the 1870s when "a new kind of female lecturer invaded the platform." Among them was Logan, who was—then as now—famous solely for being famous.
As Twain explains, with a sprinkling of vitriol, Logan "married a penny-a-liner," who placed items about his wife's activities in the newspapers. Her comings and goings were trivial, but "surely Olive Logan wouldn't be mentioned in that matter-of-course way unless she was a celebrity, and therefore the reader found himself in the unsatisfactory position of being ignorant of a thing he ought to know."
Logan's reputation multiplied upon itself, Kardashian style, until she became a lucrative draw for curious audiences. The phenomenon lasted until "there were no more idiots left." No doubt Twain, who made much of his money by public speaking, was especially dyspeptic about such chicanery.
Twain spent several years near the end of his life concocting his unusual autobiography, eventually deciding to dictate his thoughts to his secretary. It was his intention that the work not be published until well after his death so as not to unduly discomfit the living and their families. Although some portions saw print early on, this approach allowed Twain to vent freely upon those who had played fast and loose with his money (which happened with alarming regularity); as he puts it, "I can speak more frankly from the grave than most historians would be able to."
On a wider platform, Twain plays the posthumous-publication card to skewer the platitudes and pieties that characterized society in his day (and ours), cooking up considerable bile for the deprecations committed in the name of faith. He excoriates "Christian Governments" for taxing the "Christian poor almost to starvation-point to support [their] giant armaments" and takes even God to task: "Our Bible reveals to us the character of our God with minute and remorseless exactness. The portrait is substantially that of a man—if one can imagine a man charged and overcharged with evil impulses far beyond the human limit; a personage whom no one, perhaps, would desire to associate with, now that Nero and Caligula are dead."
Twain also asserts his right to detour and digress with abandon, noting that "it is the foundation principle of this autobiography that it shall drop a subject, whether it be finished or not, the moment a subject of warmer interest shall intrude itself." In conversational style, Twain begins most days ruminating upon an old newspaper clipping, a letter from a bygone acquaintance or just a stray recollection.
Volume 1 of the projected three volumes of the autobiography includes several false starts in various formats that Twain explored before settling on a regimen of dictation in 1904. Volume 2 finds Twain in full swing from April of 1906 to February of 1907. The copious footnotes (nearly 200 pages) add context and helpful details, and are a model of dedicated scholarship by the members of the Mark Twain Project at UC-Berkeley's Bancroft Library.
The result is sometimes scattered and prolix to a fault but always readable. Here are both useful aphorisms that stand the test of time—"It has always been a peculiarity of the human race that it keeps two sets of morals in stock—the private and real, and the public and artificial"—and the occasional off-beat head-scratcher: "I would like to dress in a loose and flowing costume made all of silks and velvets, resplendent with all the stunning dyes of the rainbow, and so would every sane man I have ever known; but none of us dares to venture it."
There is even an anecdote that will resonate with today's harried reviewers. Harking back to his days as a cub reporter on San Francisco's Morning Call newspaper in the 1860s, Twain describes his labors as a theater critic: "At night we visited the six theatres É. We remained in each of those places five minutes, got the merest passing glimpse of play and opera, and with that for a text we 'wrote up' those plays and operas, as the phrase goes, torturing our souls every night, from the beginning of the year to the end of it, in the effort to find something to say about those performances which we had not said a couple of hundred times before." Plus a change, plus c'est la mme chose.
Autobiography of Mark Twain, Volume 2
Edited by Benjamin Griffin and Harriet Elinor Smith
UC PRESS; $45