Arts
Clay in the Bay
The medium is the malleable message in the hands of clay artists at de Saisset Museum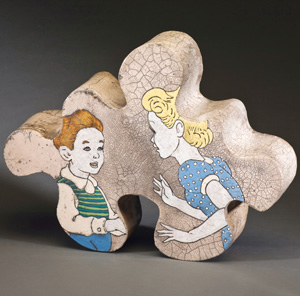 To most people clay is meant to be shaped into functional items—bowls, cups, vases—but to the 12 artists featured in the de Saisset Museum's new exhibit, "Clay in the Bay," the medium is much more. For this show, clay, a material as old as the earth itself, is transformed into something new.
Clay has direct ties to the Bay Area; it was here that functional clay stepped into the role of a contemporary art form. In the late 1950s and '60s, Peter Voulkos began to push the boundaries of working with clay. His experiments with combinations of handmade pieces and wheel-thrown forms resulted in a new way of thinking about the material. Voulkos' students, who later became teachers of his approach, explored this new artistic medium, leading to the creation of two major groups, at UC-Berkeley and UC-Davis, dedicated to seeing just how far sculptural ceramics could go.
"Clay in the Bay" is a testament to the fact that artists have not ceased in their quest to push the boundaries of clay as an art form. The artists in the show were all selected because of their distinctive ways of exploring clay. The pieces range from sculptures that reflect the inner workings of the artist's mind to installation pieces that interact intimately with the environment that surrounds them.
"I was looking for artists using the medium in an innovative way," says Lindsey Kouvaris, curator of exhibits and collections at the de Saisset.
Some of the contributors, like Don Fritz, an art professor at Santa Clara University, use clay as a way to tell a complicated story. His piece, Gift, leads viewers to create their own interpretation of the narrative depicted. Fritz has sculpted clay into the shape of a puzzle piece. The front shows a boy handing a woman something that seems to have surprised her; however, whatever he is handing her remains unidentified in the empty space where another piece would fit.
Others twist clay into wondrous and amusing shapes, such as Bean Finneran with White Cone, Orange Cone and Purple Cone.
Ehren Tool uses his work, 240 of Thousands, to open a dialogue about the politics of war. Santa Clara's own Francisco "Pancho" Jimenez presents an exploration of the past and all its mystery through his own modern interpretation. Jimenez is also a professor of art and art history at Santa Clara University and has lived in the area for most of his life. One of Jimenez's first exposures to working with clay was when he sat in on a ceramics class taught by Kelly Detweiler at SCU. "That's when I really began to fall in love with [working with clay]," Jimenez says.
Jimenez tell me that he believes that clay has infinite possibilities for artists: "It's very malleable—there's a lineage there. When you look at ancient cultures, what do you find? Their clay."
This history is what inspires Jimenez to continue working with the medium. When he was young, Jimenez traveled to Mexico and was immediately taken with the mystery of its ancient ruins. "I loved the marriage of geometry and sense of scale that you see in ruins," he explains. "For me, clay always felt very timeless."
Indeed, this concept of timeless mystery can be vividly seen in Jimenez's work. His pieces combine the basic shapes he has always admired with a decidedly ancient Mesoamerican flair. In Cara a Cara, which means "face to face," Jimenez plays with the aura of strangeness that often envelops the past. The piece focuses not only on the structure and intricate designs of the clay itself but also on the negative space found around the sculpture. This framing of space creates a sense of wonder similar to the one Jimenez felt when he encountered the remains of past civilizations in Mexico.
"To me, clay feels honest," says Jimenez about why he enjoys creating with clay. It is quite apparent that the rest of the artists featured in the show all feel that honesty. Whether the pieces are purely made of clay or combine it with other materials, each artist honors the time-enduring beauty of the clay.
The other artists on display are Robert "Bo" Kvenild, David Linger, Spring Montes, Matthew Scheatzle, Nancy Selvin, Monica Van Den Dool, Jenni Ward and Stan Welsh.
Clay in the Bay
Runs through March 17