Arts
Concrete Thread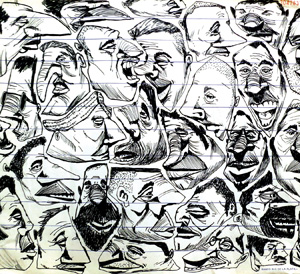 A different kind of art crowd descended on San Jose's Seeing Things Gallery last Friday for the opening of "Concrete Thread," a skating-influenced showcase of works by artists, illustrators and photographers—and professional skaters. Unlike the visitors at most art shows, the patrons at Seeing Things donned hoodies and beanies; well-worn skateboards leaned against the walls, highlighting the casual and independent atmosphere of the gallery.
The show was put together with the help of one of the featured artists and legendary San Jose skater Jason Adams, a longtime friend of gallery owner Jai Tanju. Adams and Tanju requested art from around the country, including pieces by noted skaters Ray Barbee, Chet Childress, Lance Mountain and Stephan Janoski. The result is an intriguing look into the world of skateboarding through a variety of styles, including action photography and mixed-media painting.
Most of the other artists represented have some association with the skateboarding industry, including Rich Jacobs, an Oakland-based artist and curator whose work stood out for its raw and imaginative mix of portraits and abstraction on homemade paper.
Seeing Things Gallery has only been open since early November of last year but has already put on six different shows (sometimes two a month) and become part of South First Fridays. Owner Tanju is a photographer and artist best known by his print ads for Enjoi Skateboards, Black Label Skateboards and Pig Wheels, as well as his long association with the collection of San Jose and South Bay skaters known as the Tiltmode Army.
"Much of my life has revolved around skating, and the work shown in the gallery reflects that," Tanju says. That focus extends to next month's show, "Barricade," devoted to skate photography. The gallery also carries a growing collection of zines, books and oddities for display and purchase.
Concrete Thread
Runs through Feb. 22