Arts
Engineering Secrets Revealed!:
A Centennial Exhibit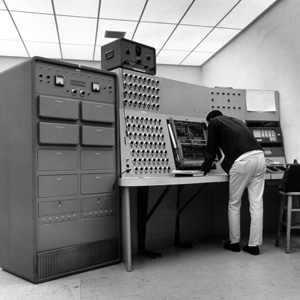 IN 1919, Santa Clara University's yearbook The Redwood, stated, "The Engineers are planning, and when Engineers plan: results follow!" Indeed, from manning the first heavier-than-air flying machine to winning awards for their energy-efficient houses, Santa Clara University's engineers have contributing to technological advancement for a century. "Engineering Secrets Revealed: A Centennial Exhibit" explores the School of Engineering's 100 years of excellence with displays of engineering mementos and artifacts.
Santa Clara University was founded in 1851 but it was not until 1912 that the College of Engineering was established. In the early 20th century, college president James P. Morrissey introduced law and engineering to SCU's curriculum. He hoped to shape the school into an institution that emphasized both ethical behavior and enlightening academic study. George L. Sullivan was the first dean of the new school and guided the fledgling establishment for 43 years. In 1936, the program became the first accredited engineering school west of St. Louis. After World War II, demand for engineers increased, and soon the school was enrolling hardened soldiers alongside young freshmen. In 1959, the College of Engineering became the School of Engineering.
The program places a specific emphasis on educating for entrepreneurship and promoting a synthesis of ethical ideals and engineering education. SCU's engineers have also joined the crusade for a more sustainable world and Environmental Engineering has become one of the premier sections of the school. SCU placed third in both the 2007 and 2009 Solar Decathlons, a competition to create the most energy-efficient home. Visitors will find relics from each of the school's many milestones. Display cabinets house memorabilia from the school's first years, pictures of some of the crme de la crme of SCU's engineers, and other artifacts like the GeneSat-1 satellite that NASA gave to SCU in 2007.
In the corner hangs a replica of The Pink Maiden, John J. Montgomery's test model of a glider. Visitors will also get a chance to see some of the designs made by SCU seniors, including the Treadle Water Pump, a human-powered pump that was created to help developing countries irrigate their crops.
Engineering Secrets Revealed!: A Centennial Exhibit
Runs through Dec. 15
Third Floor Gallery, Santa Clara University Library