Fall Arts 2011
Visual
THEATER companies piece together each season as if preparing a well-balanced meal—and there's no shortage of innovative shows cooking in Silicon Valley this fall.
"You want every play to be a different journey," says Rick Lombardo, artistic director at the San Jose Repertory Theatre, who likens a seven-play season to a seven-course meal, "As you plot through the courses, everything leads to the next." Theater companies balance out hearty, robust dramas with bittersweet musicals and palate-cleansing comedies to construct a truly harmonic season of shows.
The Rep opens its season with Spring Awakening, an intoxicating coming-of-age musical that swept the Tony Awards in 2007. The musical takes place in 19th-century Germany and centers around a cast of teenagers as they navigate their burgeoning sexualities amidst a society shrouded by taboo.
The production includes Eryn Murman, who performed in the Broadway version of Spring Awakening. Murman takes the role of Wendla, one of the show's title characters, who was portrayed on Broadway by Glee actress Lea Michele. Additionally, fans of So You Think You Can Dance will be delighted to hear that choreographer Sonya Tayeh will lend her sumptuous, carnal choreographic style to the show.
Eat the Runt, performed by alternative theater company Renegade Theatre Experiment, follows a grant-writing applicant who interviews with a collection of eccentric characters at a major art museum. The twist? Actors in Eat the Runt must be prepared to play every single role because each show is cast by the audience minutes before the performance begins. No role requires an actor of a specific gender, age or race, and in fact, the show is written entirely without pronouns. This experimental comedy illuminates issues of identity, perception, and how we perceive ourselves and others.
The time is finally right for San Jose Stage Company's upcoming production of Cabaret. "Cabaret is one of those musicals we've kicked around forever," artistic director Randall King says. "We first started talking about it in upstairs Eulipia in 1984."
Cabaret takes place in the run-down Kit Kat Klub, a debauched refuge from the rising terror and turbulence of pre-war Berlin. King hopes that the edgy musical will resonate with the young audiences that attended this past summer's production of Avenue Q.
"If you need a shot in the arm artistically and musically and you want to see something done as you've never seen it, see Cabaret," he says. "This is the petri dish and we splash stuff in the petri dish on you."
Another local theater petri dish is Palo Alto–based TheatreWorks, which boasts three world premieres in its upcoming season. "We're really proud of our New Works Initiative," says artistic director Robert Kelley, referring to the company's program dedicated to developing and financing original shows. TheatreWorks debuts Clementine in the Lower 9 on October 5, a drama set in one of the most severely damaged districts in post-Katrina New Orleans. Clementine is written by Dan Dietz, whom Kelley describes as a "formidable playwright with a great sense of character." The play examines how humanity can manage to rebuild itself after a crisis and is accompanied by musical commentary from a New Orleans blues band.
The holidays are the time when theater companies make their bread by dolloping out warm, buttery musicals. But at City Lights Theater Company, artistic director Lisa Mallette has a different approach. City Lights has chosen to forgo saccharine Christmas classics in favor of The Santaland Diaries, written by David Sedaris.
"This is a perfect show for City Lights," Mallette says, calling Sedaris "brilliant and sassy." The show, originally performed by Sedaris as a monologue on National Public Radio, consists of the acerbic musings from a jobless slacker turned Macy's Christmas elf.
Theater companies across the valley seek to both challenge and satisfy every palate. Says the Rep's Lombardo, "I look for work that really focuses on great stories that will resonate with the questions that we're all considering—the deep questions, philosophical questions of our age. They ask audiences to go to some uncomfortable places but the ride is well worth it."
For Lombardo, the most rewarding part of the job is when dubious theatergoers find themselves surprisingly sated.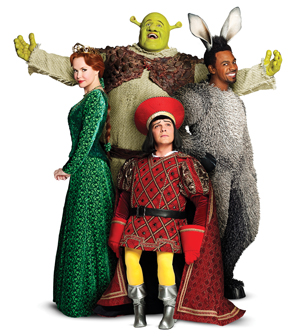 Broadway by the Bay
Fox Theatre, Redwood City
Gypsy Sept. 22–Oct. 9. A musical taken from the memoir of stripper Gypsy Rose Lee about her formidable mother and the lengths she went to to push her daughters into stage stardom.
Broadway by the Year: 1947 and 1966 Nov. 17–20. A selection of show tunes from Brigadoon, Cabaret, Sweet Charity and others.
Broadway San Jose
San Jose Center for the Performing Arts
Shrek the Musical Sept. 20–25. Family-friendly fun based on the movie franchise about a crotchety green ogre who turns into an unexpected hero.
CATS Dec. 27–Jan 1. Andrew Lloyd Webber's iconic musical about the different felines that prowl the streets at night, inspired by a poem by T.S. Eliot.
Bus Barn Stage Company
Bus Barn Theater, Los Altos
SHOUT! The Mod Musical. Sept. 1- Oct. 1. A group of women work through love and relationships during the 1960s.
Almost Maine Nov. 17–Dec. 18. The residents of a Maine town fall in and out of love in unexpected and humorous ways.
City Lights Theater Company
San Jose
August: Osage County Sept. 22–Oct. 23. Three generations of dark secrets are revealed at a family reunion in the Pulitzer-winning drama by Tracy Letts (Bug).
The Santaland Diaries Nov. 17-Dec. 18. A Macy's holiday elf shares his observations on Christmas culture in a comedy by David Sedaris.
Dragon Productions
Dragon Theatre, Palo Alto
Sister Cities Sept. 30–Oct. 23. Four sisters from four different fathers reunite after their mother's death in Colette Freedman's comedy.
Stones in His Pockets Nov. 11–Dec. 4. A funny and moving tale about the seductive allure of Hollywood and the goodness of life, set in a tiny Irish village overrun by a team of filmmakers.
El Teatro Campesino
El Teatro Playhouse, San Juan Bautista
Popol Vuh: The Magic Twins Sept. 1–25. The third and final installment of El Teatro Campesino's original adaptation of the sacred creation book of the Quiche Maya.
Los Gatos Shakespeare Festival
Toll House Hotel, Los Gatos
Murder A mystery play set during 1944, performed as dinner theater to raise funds for the upcoming Los Gatos Shakespeare Festival season. Sept. 17, 7–10pm.
Lyric Theatre
Montgomery Theatre, San Jose
H.M.S. Pinafore Oct 1–9. A captain's daughter falls in love with a sailor in the Gilbert and Sullivan favorite.
MACLA
San Jose
A Body Parted: Shrapnel of Present Time Sept. 23–25. Performances related to an art show about borders and immigration.
First Woman on the Moon Nov.18–19. Solo show about outer and inner space by performance artist Elia Arce, re-created from a work done in 2001.
Placas A staged reading of a play about a Central American immigrant trying to change his life and stay out of a gang. December.
Northside Theatre Company
Olinder Theatre, San Jose
Fool for Love Oct. 6–30. Two lovers struggle over their differences in a squalid motel room somewhere in the desert. It could only be a Sam Shepard play. (Shepard wrote it and even played the man, opposite Kim Basinger, in a 1985 film adaptation directed by Robert Altman.)
A Christmas Carol Dec. 7-24. This will be Northside's 30th go-round of the Dickens' classic tale about the spirit of Christmas.
Palo Alto Players
Lucie Stern Theater, Palo Alto
Nunsense with a Twist Sept. 16–Oct. 2. A popular musical about five nuns attempting to raise money to bury their Sisters. PA Players promises some new variations on the play.
Parade Nov. 5–20. By manipulating witnesses and tampering with evidence, the prosecution convinces the jury that a young Jewish factory manager owner is guilty of rape. It's a musical (surprisingly) based on a 1913 trial in Georgia.
Pear Avenue Theatre
Mountain View
The Fifth of July Sept. 16–Oct. 9. Friends and relatives in Missouri look to the future on the occasion of the American bicentennial in Lanford Wilson's play about the long, troubling aftermath of the Vietnam war and its impact on veterans.
Mauritius Nov. 4–20. Stamp collecting becomes a blood sport as two half-sisters fight over an extremely pricy pair of stamps.
Renegade Theatre Experiment
Historic Hoover Theatre, San Jose
Eat the Runt Sept. 10–Oct. 1. An applicant for a grant-writing position must impress a series of eccentric interviewees. The twist? The audience casts the show minutes before the performance. An HR dream (or maybe nightmare) come true.
9 Circles Nov. 4–26. A psychological drama delving into the mind of a young soldier as he is prosecuted for rape and murder against Iraqi civilians.
The Retro Dome
Saratoga
SHOUT! The Mod Musical Runs through Sept. 18. A group of women sing about love and relationships during the women's liberation movement of the '60s.
Long Live Life Sept. 25 at 7pm. An evening devoted to Jewish experience in music and text with SJ Chamber Orchestra.
You're a good man charlie brown Nov. 4–Dec. 18. A musical based on the comic strip.
San Francisco Mime Troupe
Various locations
2012—The Musical Sept. 1 at 7pm in Mitchell Park in Palo Alto; and Sept. 14 at 7pm in Courthouse Square, Redwood City.
San Jose Repertory Theatre
Spring Awakening, Sept. 1–25. A coming-of-age rock musical (by way of Frank Wedekind's 1891 play, of all things) that swept the 2007 Tony awards kicks of San Jose Rep's new season.
The Last Romance Oct. 13–Nov. 6. An ageless story about taking a chance on love later in life. This is the local premiere of Joe DiPietro's play
A Christmas Carol Nov. 23- Dec. 24. An original adaptation of Charles Dickens' Christmas tale.
San Jose Stage Company
The Stage, San Jose
Cabaret Sept. 28–Oct. 23. Kit Kat Klub chanteuse Sally Bowles romances two men in the highly charged world of Germany between the wars at the rise of Hitler in the famous Kander and Ebb musical.
Holiday show Nov. 19–Dec. 11.
San Jose State University
Television-Radio-Film-Theatre Dept., University Theatre, San Jose
Dead Man's Cell Phone Oct. 7–15. A comedy about morality, redemption and technology.
The Trojan Women: A Love Story Nov. 11–19. Based on the works of classical Greek dramatist Euripides and French dramatist Hector Berlioz.
Santa Clara Players
Triton Museum Hall Pavilion, Santa Clara
My Three Angels Oct. 28–Nov. 19. Three convicts in French Guinea demonstrate the multiple sides of justice.
Shady Shakespeare
Sanborn County Park.
A Midsummer Night's Dream and Henry V run in repertory through Sept. 3.
The company holds a Concert Fundraiser on Sept. 5 at 7pm at the park.
Shakespeare Santa Cruz
Montalvo Arts Center, Saratoga
The Comedy of Errors Sept. 9–16 A selection from the summer season moves over the hill to Saratoga.
South Bay Musical Theatre
Saratoga Civic Theatre, Saratoga
42nd Street Sept. 17–Oct. 8. A Broadway-set musical.
Sunnyvale Community Players
Sunnyvale Community Theater, Sunnyvale.
Oliver! Sept. 16–Oct. 9. A musical out of Dickens about a striving urchin orphan.
The 1940's Radio Hour: A Musical Christmas Card Oct. 28– Nov. 20. The holiday magic of a dysfunctional 1940s radio show mounted onstage.
Tabard Theatre Company
Theatre on San Pedro Square, San Jose
Bandstand Beat Sept. 16–Oct. 9. A revue re-creates the fun of old TV dance shows.
The Story of My Life Oct. 28–Nov. 20. The bond between two best friends evolves over the years and deeply affects their lives in a new musical by Neil Bartram and Brian Hill.
It's a Wonderful Life Dec. 2–18. The Frank Capra movie is converted into a 1940s-era radio play in an adaptation by Joe Landry.
Teatro Vision
Mexican Heritage Plaza Theater, San Jose
LOL! Latina on the Loose! Sept. 29–Oct. 2. A woman figures out a way to follow her dreams in America without losing her pride as a Latina.
TheatreWorks
Mountain View Center for the Performing Arts and Lucie Stern Theater
Sense and Sensibility Runs through Sept. 18. An adaptation of Jane Austen's novel about two very different sisters.
Clementine in the Lower 9 Oct. 5– Oct. 30. The world premiere of a drama about surviving and rebuilding in post-Katrina New Orleans.
The Secret Garden Nov. 30–Dec. 31. An English orphan girl revives a once-grand Victorian garden in a musical based on the famous children's book.
West Valley Light Opera
Saratoga Civic Theater, Saratoga
How to Succeed in Business Without Really Trying Nov. 5–Dec. 4. A musical about a window washer's rise to the top.
Children's Stage
California Theatre Center
Sunnyvale Community Center Theater, Sunnyvale
The Emperor's New Clothes Sept. 27– Oct. 14.
The Little Mermaid Oct. 17–28.
The Legend of Sleepy Hollow Oct. 31–Nov. 14.
The Elves and the Shoemaker Nov. 28–Dec. 2.
Madeline's Christmas Dec. 5–16.
Children's Musical Theatre San Jose
Montgomery Theatre, San Jose
Seussical Nov. 11-20. An imaginative musical based on the works of Dr. Seuss.
Disney's Tarzan Dec. 2- 11. A young man raised by apes meets humans.
Palo Alto Children's Theatre
1305 Middlefield Road, Palo Alto
Pinocchio Nov. 3–13.
Junie B in Jingle Bells, Batman Smells Dec. 8–18.
Peninsula Youth Theatre
Mountain View Center for the Performing Arts
Cats Nov. 12–20.