Arts
Flesh and Metal
Stanford students helped curate show with big names from SFMOMA's collection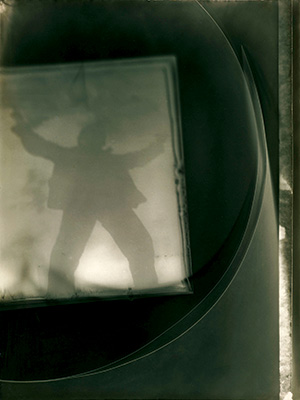 As the San Francisco Museum of Modern Art (SFMOMA) goes on the road during its own phase of inner-reconstruction, its collections are appearing at various partner institutions throughout the Bay Area. One such collaboration has emerged at Stanford University's Cantor Arts Center, where students helped curate "flesh and metal."
Co-organized by SFMOMA, "Flesh and Metal: Body and Machine in Early 20th-Century Art" presents more than 70 artworks that explore a central dynamic of art-making in Europe and the Americas during the first half of the 20th century. Culled entirely from SFMOMA's collection, the show features artists that include Constantin Brancusi, Giorgio de Chirico, Salvador Dali, Marcel Duchamp, Germaine Krull, Fernand Leger, Wyndham Lewis, Laszlo Moholy-Nagy, Piet Mondrian, Man Ray and others, all revealing different takes—utopian and dystopian—on the fusion of man and machine.
The exhibit unfolds in four sections across two galleries in the Cantor Center. "The Body: Human Concretion" focuses on the dynamism of machines and industry, and how they especially relate to the human body. A famous de Kooning quote heads the whole section: "Flesh was the reason oil paint was invented." We then see several of Leger's works plus Moholy-Nagy photos of broken dolls and Werner Rohde's interpretations of discarded display mannequins.
The next section, "The Urban Landscape: Studies in Form," concentrates more on the metropolis as creative inspiration. Some artists champion the new age of skyscrapers, bridges and fast-past city life, while others are skeptical of the increasing mechanization of the modern world at that time.
Cubist works by Braque and Picasso highlight the third section, "The Object: Box in a Suitcase," where we also see Man Ray's "rayographs" as well as Duchamp's notorious Fountain. Lastly, "The Imagination: Unsatisfied Desires" features yet another stylistically diverse collection of works, including a Dali painting that gave the section its title. Also included in this section is a Calder sculpture as well as paintings by Max Ernst. Surrealist troublemaker Andre Breton's famous quote heads up the section: "The imaginary is what tends to become real."
Unfortunately, what the show lacks is an adequate representation of the Italian Futurists, who most adamantly heralded the industrial age and disavowed all previous forms, writing manifestos beginning in 1909, and whose techniques of art as propaganda influenced almost all of the 20th century's troublemakers that triumphantly followed. When it comes to celebrating the beauty of technology, noise, lust and machinic violence, those guys started it all, in my opinion, and they only get a passing few mentions in this show, sad to say.
Which brings me to perhaps the best aspect of this exhibit: that Stanford students even got to learn about Futurism, Dadaism and Surrealism at all, and that they actually played a role in the curatorial process. Last spring, five students took a class from Cantor Center curator Hilarie Faberman, designed around curating "Flesh and Metal." In the course the students "fleshed out" exhibition themes, label texts and installation design. After all, the Cantor Center is located on a world-renowned campus, so why shouldn't the art students get to learn about the process? Makes sense to me.
Twenty years ago, no one taught this stuff in college. There were no course syllabi on the merits of Futurist propaganda and Dadaist nihilism. The World Wide Web was just in its infancy and one couldn't simply Google those movements. One had to search out cantankerous old artists, completely outside of academia, that knew the material. Either that or dig through tattered library copies of The Futurist Manifestos or Memoirs of a Dada Drummer.
Now all of that has changed. Asia Chiao, one of the Stanford students who participated in the curatorial process, says it was a rocking experience.
"As an undergraduate, even if you do get to curate an exhibition, typically it's a smaller exhibition with student work, et cetera," Chiao said. "But being able to work with curators from SFMOMA and work on an exhibition that includes Picasso and Duchamp's Fountain, and all these spectacular works, it's just really a once-in-a-lifetime experience. Even most [professional] curators out there don't get to work with the objects we did."
Flesh and Metal
Thru March 16
Free Admission