Arts
Booked Up
Two shows at the Cantor Arts Center reveal riches of the printers' art that no ebook can duplicate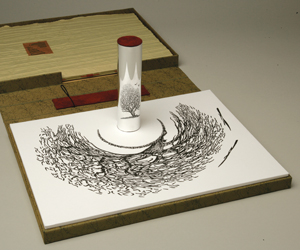 THE ELECTRONIC book as envisioned by makes of the Kindle, the Nook and other digital platforms offers a measure of convenience at the expense of the visual pleasures of typographic design and the tactile joy of good laid paper that can be riffled with the fingers.
What's at risk in this transition of technology from print to pixels can be seen at Cantor Arts Center's show "The Art of the Book in California: Five Contemporary Presses." Examples abound of creative approaches to bookmaking, an art form that is hardly on its last picas, judging from the many fruitful experiments in transmitting the written word on display.
The printers represented—Foolscap Press, Ninja Press, Turkey Press, Peter Koch Printer and Moving Parts Press—push the boundaries of what "fine printing" means. In many instances, the volumes on display slip easily into the category of fine art, constructed from rare materials in limited quantities, and at collectors' prices.
Lawrence G. Van Velzer and Peggy Gotthold of Foolscap include a tube-shaped mirror with their edition of Ursula Le Guin's Direction of the Road, in order to demonstrate the optical magic of Aaron Johnson's anamorphic woodcut of an oak tree; another project, Herakles and the Eurystheusian Twelve-Step Program, comes (at least in the museum) with a miniature theater set projecting a shadow-puppet version of the legend of Hercules' labors.
Felicia Rice of Moving Parts Press (full disclosure: I know Felicia and some of the poets with whom she collaborates) abjures paper altogether for The Lively Alphabet, a trilingual book printed on brightly colored Peruvian cloth to which hand-made knitted dolls have been attached. Carolee Campbell of Ninja Press takes W.S. Merwin's "The Real World of Manuel Cordova," prints it accordion-fold style (a popular technique among letter-press printers) and displays it as one 15-foot-long scroll. The result is impressive at a distance, with its sharp creases and image of a snaking river descending the left side of the text, tucking in and out of the ragged-edge stanzas. It is also, virtually unreadable—an art object but hardly a book.
One of the productions of Turkey Press (Harry Reese and Sandra Liddell Paulson), 33 1/3: Off the Record, makes use of old vinyl as the surface for some art/poetry pieces. In a jesting mood, Turkey Press' edition of Reese's poem "The Standard," comes in a gold presentation box that uses a genuine Victor mouse trap to illustrate the line "I love you/ Here's five dead rats."
At times, the printers here seem to be straining at their more traditional role as enablers of authors. Peter Koch rebels completely with his conceptual project Ur-Text, deploying every trick of the trade (goatskin vellum, Tibetan bone bead clasps) in service of "Wordswords," which consists solely of the title printed as a continuous text ad infinitum.
In a more familiar vein, I admired anew Moving Parts' stately version of William Everson's A Canticle to the Waterbirds, with landscape-mode avian woodcuts by Daniel O. Stolpe. Koch's Point Lobos portfolio takes advantage of oversized paper (18-by-22 inches) to convey the solidity of Robinson Jeffers' verse. The scale allows Jeffers' lines full breathing room, enhancing their impact.
At a more modest level, I enjoyed the fleeting glimpse (as always, museum displays of books are limited to but a few tantalizing pages) of Foolscap's Despatches, which collects some travel journal entries and photos by Michael Katakis into three slim, easily grasped volumes bound in a flap-front case.
Of course, the printer's urge to enhance and elaborate has a long history. In an upstairs gallery at the Cantor, the concurrent show "Illustrated Title Pages: 1500-1900" boasts some most impressive and weighty examples of bibliographic art.
The Plantin Press 1595 edition of Ortelius' Theater of the World, for instance, is sumptuously illustrated with large hand-colored maps—the kind of book that only a lectern, not a lap, could support.
Illustrated Title Pages: 1500-1900
Runs through Oct. 16
The Art of the Book in California
Runs through Aug. 28
Cantor Arts Center, Stanford