Arts
Laptop Orchestra
Music professor Bruno Ruviaro wants to bust musical grooves and create SCU's first laptop orchestra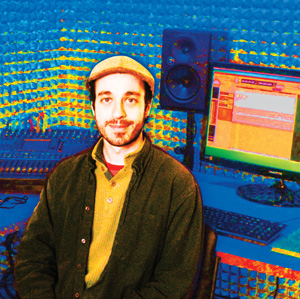 Finding information online about composer/pianist Bruno Ruviaro isn't easy. That's because the only biographical information he likes to give to the media is a chronological list of the names of all the streets on which he has lived. The list includes 22 locations now, starting with streets in his native Sao Paulo, Brazil, and ending with his current home in San Francisco.
Ruviaro, who recently joined the Santa Clara University faculty, teaches in the music department, with an emphasis on electronic music. This spring, he will be putting together the first laptop orchestra at Santa Clara, integrating computers into the traditional ensemble approach to composing and performing. (Stanford already has an active one known as SLOrk.)
Ruviaro has played in and organized laptop orchestras before, including the six-machine proto-ensemble he assembled for a preliminary concert in early January at Santa Clara. Using a laptop to create music is exciting because there are no restrictions on how it can be used. Pianists must use the keys on their instrument, but a laptop can be hooked up to a video controller, a motion sensor, a piano keyboard or even the regular typewriter-style keyboard it came with.
Similarly, during a laptop concert, the performers can be sitting, standing or dancing in any arrangement. The use of laptops pushes the limits of what we understand as music.
It took Ruviaro a long time to move from studying piano as a child in Sao Paulo to organizing laptop orchestras in the Bay Area. After receiving an undergraduate degree in Brazil, where his interest in electronic music blossomed, he decided he wanted to continue his studies in the United States, but he didn't know much about what opportunities were available here.
"I was literally typing in Google: 'Electronic Music, masters degree,'" Ruviaro explains in his office at SCU. His charming Portuguese accent, broken-in flannel and tweed Hanna hat all combine to create a laid back musician vibe.
The Internet search worked. Ruviaro was accepted to a small masters program at Dartmouth. He liked the studies, but two winters of waist-deep snow encouraged him to relocate once he received his degree.
After visiting here, the Bay Area was a natural choice. Ruviaro explains that he felt a kind of openness in this region and a willingness to take risks in terms of art. He also felt that in the Bay Area, there was time to let things unfold in their own time, as opposed to the frantic pace in a city like New York.
Now that he's teaching at Santa Clara, Ruviaro is excited to see where he can take the university's electronic-music program—and the laptop orchestra in particular.
"You really start from zero and invent a new way of playing," he says, explaining that the school is buying enough equipment for 16 students to participate. There will be a concert in early June at which students will be able to showcase their new skills. He views his students as young colleagues, choosing to abandon the traditional hierarchy between students and professors.
In addition to the laptop orchestra, Ruviaro also works to create fixed pieces of electronic music. These are composed and recorded in the studio over a period of days or weeks. During a concert, 10 or 20 speakers surround the audience. The lights are dimmed, and music streams out of different speakers at different times, creating a cinematic experience for the ears—an extreme surround-sound experience. The composer works the soundboard, choosing which speakers to use at particular times during the piece.
Although most of his time these days is spent teaching, Ruviaro still enjoys composing more traditional music. He loves the classics and enjoys finding connections between pieces across a broad spectrum of music.
"I really like stuff from 500 years ago, and I like experimental stuff that is being made now. I try to include as many influences as possible in my music," he says.
His favorite part of composing? Sitting back and listening to a finished piece. It can be a struggle to get a piece going and know what it will become. But by the time of the performance, he explains, "it's not in your hands anymore, it has a life of its own."