Arts
Miss Saigon at Lucie Stern Theater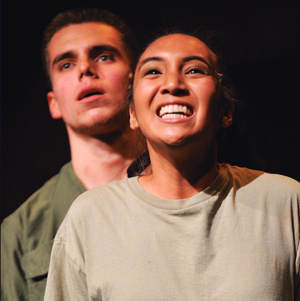 SCHONBERG AND BOUBLIL'S Miss Saigon was immensely popular in the 1990s despite some harsh backlash, and the fine local treatment it has received at the hands of Palo Alto Players proves just how well it holds up today. This tale of ill-fated romance between Vietnamese bargirl Kim and American G.I. Chris borrows its basic, glaringly Orientalist premise from Puccini's Madame Butterfly—selfless, devoted Asian woman falls in love with an American man, only to be abandoned. (David Henry Hwang, around the time of Miss Saigon's original run, eviscerated this trope with his own M. Butterfly, in which a Western diplomat sleeps with a beautiful Chinese woman for years without noticing that she is really a man.)
Exoticism aside, Miss Saigon is a very strong work. The songs, nearly on par with those of Schonberg and Boublil's Les Miserables, are nicely rendered by the talent that P.A. Players has assembled. With Katherine Dela Cruz as Kim and Danny Gould as Chris, you feel that the love story is real and not just another case of "yellow fever." Cruz's Kim is powerful and nuanced, and she shines in her duets with Gould. Even the rather dated "Last Night of the World" becomes absolutely charming.
Brian Palac is a brilliant "Engineer," more or less an East Asian counterpart to Cabaret's Emcee with something of the Thenardiers from Les Mis thrown in. He's probably the show's most difficult character to pull off, but Palac hits it on the head, especially during his gaudy signature number, "The American Dream." Paul Villareal, meanwhile, makes an appropriately menacing, though not cartoonish, villain, and Adrien Gleason plays Chris's army buddy, a party guy sobered by war—both articulating, in their own way, the suffering on all sides of the Vietnam conflict, and the plight of mixed-race "Bui-Doi" children left behind by Americans.
The stunt-show effects of the initial West End and Broadway productions, which included a life-size helicopter touching down onstage, can't be reproduced here. Still, the staging is quite lavish by regional standards, thanks largely to Kuo-Hao Lo's vivid set designs. From the smoky club where the ensemble delivers the sexy number "The Heat Is On in Saigon" to the solemn pageantry of "Morning of the Dragon," where victorious North Vietnamese march about in traditional masks, the visuals are continually striking, with just enough spectacle to evoke the great historical shifts enveloping the musical's tragic love story.
Miss Saigon
Runs through May 12; $32