Arts
Collage Couture
At Mountain View's Polyvore.com startup, Google and Yahoo vets help users make their own fashion statement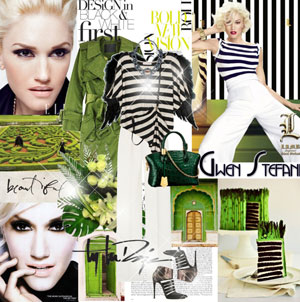 IN THE HEART of downtown Mountain View, a startup company is shaking up the fashion world. With more than 10 million monthly users, Polyvore.com has become a major network for online taste makers. On the site, users can create virtual fashion collages by dragging individual pictures of retail item images into a box and then sharing the results on social-networking sites—and commenting on trends and sets of other users.
Passionate about democratizing fashion, founders Pasha Sadri and Jess Lee have given Polyvore.com's community of users the ability to realize easily their own design ideas from a wide choice of items, many of them at high-end prices that would make them untouchable in the real world.
"We've empowered them to have a voice just by giving them this tool to express themselves and creating trends," Lee explains.
Users' "sets" often riff off current events, like a fashion showdown between Paris Hilton or Katherine Heigl in identical leather-trim capes. A posting after the passing of Steve Jobs featured the Apple co-founder's picture along with visually resonant clothing items and images of iPads.
Polyvore's staff is a small team of 20, consisting of former Google and Yahoo employees—mostly female engineers. The team had a hand in the 2011 Mercedes-Benz Fashion Week by holding a contest for women's clothing designer Rebecca Minkoff.
One Polyvore contest winner was able to redesign Minkoff's classic "Morning-After Clutch." Another user, Amy (known on Polyvore as shotpink), won a trip to New York, where she helped style Minkoff's runway show at the Lincoln Center in New York—a first in Fashion Week.
Stories such as Amy's are what impressed former White House correspondent Jennifer Yuille to join the Polyvore team. "Stories like this happen all the time on Polyvore," she says. "It truly is a unique opportunity to give anyone a real experience in the fashion industry."
Each morning, community manager Nadia Hussain surveys submissions and tweets from users. "Tweets come from multiple audiences, from online members to brands and retailers," Hussain explains.
Aside from millions of users, Polyvore's website boasts an average of 10 minutes per user, compared to the one to two minutes on an average website. Its staying power has attracted major paid partnerships with retailers such as Bergdorf Goodman.
Among its biggest collaborations is with Fashion's Night Out, which took place on Sept. 8, 2011. "We've tried to provide the same experience that one might have at a Fashion's Night Out celebration in 16 countries in a single virtual venue," Yuille says.
Co-founder Jess Lee credits Polyvore's progress to her experiences at tech neighbor Google. "Oftentimes, when we have a new feature, we have an 'A-B experiment' where approximately 5 percent of users will see a particular feature and everyone else won't see it. And we'll compare the behavior between the two groups."
Surpassing even such brand sites as Vogue.com and Style.com, the real-time fashion generator has become one of the largest fashion resources on the web, coming a long way from the original foursome squatting in a friend's office.
Polyvore works to maintain personal relationship with their community members even as it expands. Outside of the virtual community, Polyvore hosts meet-up events for Bay Area users, including Taco Tuesdays at the Mountain View offices.
Despite the honorary experience of visiting Vogue's offices and meeting fashion editorial queen Anna Wintour, Lee says that her favorite encounter thus far was at Fashion Week. "One Polyvore winner had never left Detroit, and she helped design a bag for Rebecca Minkoff and later walked the runway. It was so rewarding to see the excitement on her face," Lee says. "That is the best part of it all."
DIY Design
Polyvore.com