Arts
Santana Scene
Last weekend's runway show at Santana Row featured TV celebs, flirty models
and lots of pageantry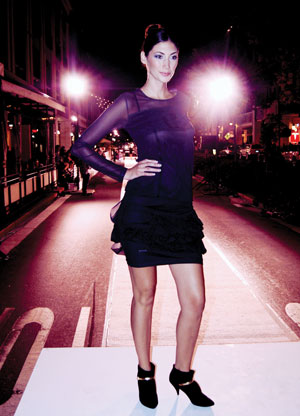 FASHION WEEK is a global celebration of couture that's been a part of the cultural landscape for several decades, but it's never really had a presence in San Jose—until now. Having participated in the popular Fashion's Night Out events earlier in the week, Santana Row hosted a fall fashion runway show on Saturday that showcased items from boutiques in the shopping center, keeping pace with fashion week's label-oriented reputation by focusing on higher-end designers.
Before the presentation, there was mingling in the roped-off VIP area surrounding the runway. Guests made small talk over wine and appetizers from Straits and Sino. Things got started around 6:30pm, opening with a few words from some celebrity guests: Project Runway Season 7 winner Seth Aaron and renowned shoe designer Donald J. Pliner. Seth Aaron took a few minutes to plug his upcoming line, which will be available at Target and made from sustainable and recycled materials—something that is, he says, very difficult to do at the mass-market level.
Pliner arrived after, accompanied to the runway by two models in LBDs. He accepted some applause and thanks from the audience, and ushered in the festivities.
The show kicked off, so to speak, with imaginative products from Pliner's store—tall-shafted, colorful boots were the focal point—and then transitioned into selections from The Blues Jean Bar, which employed several male models, much to the delight of the overwhelmingly female audience.
As things got rolling, renters in the nearby apartments began gathering on their balconies to see what was happening on the street below them, and it didn't take long before crowds had gathered on both sides of the street to watch.
The show managed to strike a balance between keeping it tasteful and traditional, while also indulging in some of the spectacle and stunt that modern runway shows have become known for—some of the models were clad in outfits that would never be practical to wear in public but showed off the designers' skill, and the models for St. Croix's collection were accompanied by a pair of well-behaved Corgis on leashes.
The show still featured several fresh-off-the-rack pieces that highlighted the best in fashion for fall: lots of leather, saturated colors and jewel tones, and touches of lace, a trend that style writers have been forecasting will be big this season.
However, it wasn't all fashion-industry pageantry. Santana Row's show seemed to make an effort not to take itself as seriously as its New York or Milan counterparts. At some intervals, models did a few fist pumps or busted out silly dance moves to elicit responses from the crowd, and one of the boys made a surprise shirtless appearance, momentarily peeking around the corner of wings and provoking a raucous response from the women in the audience.
Models even occasionally chatted to each other as they passed on the runway—something that would never fly in New York. But in all other respects, they stayed classy. The transitions were smooth, the music coordinated, and some of the women on the catwalk had a pitch-perfect "model walk"—a feat that many America's Next Top Model contenders can't master.
Though the actual runway show was invite-only, shoppers could still get in on the not-so-exclusive afterparties at the various stores on the row. Newbie boutique San Francisco Shirt Company was the place to be when the show wrapped around 7:30pm, with models dancing in the windows, and women in elaborate gowns on the street outside for hours afterward, provoking passersby to pose for photos with them as if they were Disney park princesses.
Other shops like Ted Baker and Cole Haan offered cocktails, appetizers and meet-and-greets with Seth Aaron to entice shoppers. All in all, Santana Row's fashion week function had an appropriate haute-couture influence, but still remained distinctly Silicon Valley.