Arts
The 'Roots & Wings' of sjDANCEco
Local dance company celebrates its influences while looking to the future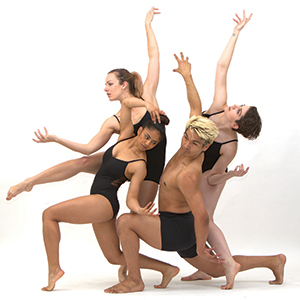 Since its founding in 2003, sjDANCEco has bounded, tumbled and twirled its way through 14 seasons, always keeping an eye fixed firmly on the future of dance. The company opens its 15th year with a production that continues this theme, while also acknowledging the work of the artists that have inspired them.
Roots & Wings will feature nods to groundbreaking choreographers Doris Humphrey and José Limón—both pioneers in the field of modern dance—as well as new pieces created by the company's resident choreographers, Gary Masters, Maria Basile and Hsiang Hsiu Lin. "We have always been focused on new works," says Masters, one of sjDANCEco's founders. But that's not to say he and his colleagues have no reverence for tradition.
To commemorate the start of their 15th season, sjDANCEco is planning a program that pays tribute to the past, while also looking forward to a new generation of dancers and choreographers. "Day on Earth," a 1947 piece by Humphrey, showcases the late choreographer's concept of "fall and recovery"—a theory of human movement built around tension and release, and, more metaphorically, around the life cycle. "Day on Earth" tells the story of a single family, who symbolize the eternal human themes of birth, life, toil, joy, death and rebirth.
The piece "World Premieres" is inspired by the personal and artistic history of Basile, Lin, Nhan Ho, and Mathews. A tribute to Limón, "Journey Through the Labyrinth" commemorates the life of Limón—telling the story of his journey from Mexico as a child to his achievements as one of the most prominent male dancers and choreographers of the 20th century.
Masters has asked Sam Cortez from Los Lupeños de San José, a Mexican Folk dance company, to choreograph the opening for "Journey Through the Labyrinth," to depict the different aspects in Jose's life and his Mexican heritage, "[That] was always a part of him, even though he lived in this country longer than he lived in Mexico." There will be three performances of Roots & Wings: Thursday, Oct. 12 at 8pm; and Saturday Oct. 14 at 2:30pm and 8pm.
Roots & Wings
Oct 12 & 14, $25+
Hammer Theatre Center, San Jose
sjdanceco.org