Arts
You Can't Take It With You
Adam Cotugno and Lorie Goulart persevere in the face of familial foolishness in 'You Can't Take It With You.'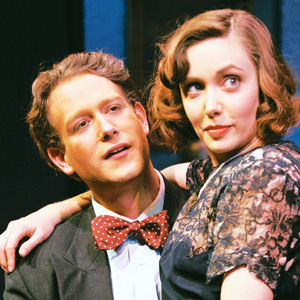 Thanks to the famous Frank Capra film and endless revivals, most people are familiar with the plot of the Kaufman/Hart Pulitzer Prize–winning comedy You Can't Take It With You, now running at Palo Alto Players. But just in case—this 1930s screwball play captures a day in the life of the Sycamores, a family of eccentrics. The story opens to the bustling activity in a house adorned with creepy portraits and collected oddities. The eldest daughter, Essie (Kim Saunders), dances around, making candies with her passive, doting husband, while explosions erupt from the basement, where the awkward father toils away on fireworks experiments. The grandfather (Tom Caldecott) meanders around admiring his pet snake. The mother, Penny (Debi Durst), sits quietly in the middle of this chaos, typing away at another unfinished play—and madder than the rest.
Soon, the younger daughter, Alice (Lorie Goulart), appears, and it's obvious that she is the only one with a grasp of the outside world. Inevitably, she falls in love with Tony (Adam Cotugno), the son of her wealthy boss —and that leads, equally inevitably, to the clash of their two very different families during a disastrous dinner party.
The play, which premiered in 1936, is essentially a wind-up toy. Once the mechanism is started, it spins down to its predetermined conclusion. The relentless predictability is part of the play's appeal. The key to any production is to keep things moving and not gum up the works. You Can't Take It With You also can't help bring with it the context of is time. Palo Alto Players has chosen an interesting strategy of straddling the line between adhering to the original and satirizing the differences between then and now. That tack adds to the fun, because much of the conversation fits perfectly into modern political and cultural discussions.
The cast members hold their own in both the fast-paced, witty dialogue and their respective wackiness. As the grandfather, Caldecott plays true slapstick well, and John Watson as the mad scientist father is sincere in his absent-minded disposition. But the outstanding performance is by Brandon Silberstein as Mr. Kolenkhov, who is hilarious as a strongly opinionated Russian dance teacher. Overall, the acting is pretty broad, but nobody expects subtlety in a screwball comedy. Any performance of a hugely successful play is going to be hit or miss. And when a story is so well known it can come off as mere imitation. But Palo Alto Players, which last performed the play in 1943, brings a refreshing approach to You Can't Take It With You. The original is honored, yet the cast still has room to fully explore the characters.
You Can't Take It With You
Runs through Nov. 18; Thursday–Saturday, 8pm, Sunday, 2:30pm; $16–$29
Lucie Stern Theatre