January 25-31, 2006
home | the papers | north bay bohemian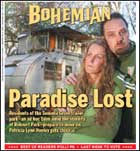 Paradise Lost
Residents of the Sonoma Grove trailer park—an ad hoc Eden amid the sterility of Rohnert Park—prepare to move on. Patricia Lynn Henley gets close.

The Byrne Report
Killer Regeneratrix.
News Briefs
Nondrivers Wanted.

Car Culture
New-Old Drivers.

Dishing the Dirt
'Farmer John' a riveting doc about love of land.

MORE MOVIE REVIEWS

MOVIE TIMES

Zen of Olives
Don Landis loves his olives, and that's no lye.
Wine Tasting Room of the Week
ZAP, You're It.
News of the Food
I'd Like to Buy the World a Coca.

BOOK A RESTAURANT RESERVATION

FIND A RESTAURANT REVIEW

Creating Places
Reflections on Patricia Johanson—the artist as savior.
Speaking Cash to Power
Phaedra and a flaming bird take flight at Ballet San Jose Silicon Valley.
Lonely Guys
'Bus Stop' and 'All My Sons' hit area stages.