March 1-7, 2006
home | the papers | north bay bohemian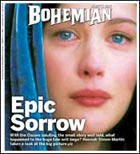 Epic Sorrow
With the Oscars saluting the small story well told, what happened to the huge tale writ large? Hannah Strom-Martin takes a look at the big picture.

Bridge Too Far Gone
Replacing the Geyserville span may require 12 months and an entirely new structure.
Slam Dance
Supreme Pro Wrestling: punk rock in spandex?
News Briefs
Napa County sues Oregon Steel Mills over sewage spills.

The Byrne Report
News reporters fail to counter barrage of political disinformation.
Car Culture
According to a researcher at the Culinary Institute of America, 19 percent of all meals and snacks are eaten in the car.

Documentary Short Films
Oscar-nominated docs give snapshot of the year.

MORE MOVIE REVIEWS

MOVIE TIMES

Richard Thompson
New box spotlights king of Celtic folk-rock.
Ray Manzarek
Former Door finds new life in the old songs.
Kiosk of Misfit CDs
The music no one checks out at the public library.
Off the Cutting Edge
Sara Bir's blog.

MORE NIGHTLIFE

NIGHTLIFE LISTINGS

NIGHTLIFE CALENDAR PICKS

Bud's Custom Meats
Matt Pamatmat hosts a meat-off of far-ranging proportions.
News of the Food
The Western Regional Barista Competition moves to the Petaluma Sheraton.
Morsels
Edible Flowers.

BOOK A RESTAURANT RESERVATION

FIND A RESTAURANT REVIEW

The Oregon Shakespeare Festival
Notes from Ashland in the crisp nonsummer, including reviews.