March 8-14, 2006
home | the papers | north bay bohemian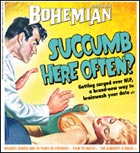 Neuro-Linguistic Programming
Getting sarged over a brand-new way to brainwash your date.

KBBF-FM
Bilingual radio station returns to its roots.
News Briefs
Charles Krug Winery vineyard workers file sexual harassment lawsuit.

The Byrne Report
Government wiretaps.
Car Culture
Can a machine read your proof of insurance? Or detect if your documents are fraudulent?

'The Ister'
New film shows how Heidegger got out of the boat.

MORE MOVIE REVIEWS

MOVIE TIMES

The 8-Track
In praise of the bastard stepchild of formats.
Alone Together
Rock reflects the singular in the collective.

MORE NIGHTLIFE

NIGHTLIFE LISTINGS

NIGHTLIFE CALENDAR PICKS

Cutting the Mustard
In which we learn an unusual amount about one certain condiment.

BOOK A RESTAURANT RESERVATION

FIND A RESTAURANT REVIEW

The Big Four
Introducing the North Bay's newest arbiters of taste.
'Urinetown'
Sixth Street Playhouse scores a straight flush with edgy apocalyptic musical.
Winter Tales
Notes from Ashland in the crisp nonsummer.
Hearts in Darkness, Flights of Fancy
The Oregon Shakespeare Festival opens its 2006 Season with flying lawn chairs, spirited name droppers, heartbreaking hideaways, mysterious wintry trees--and not a bear in sight.