December 7-13, 2005
home | the papers | north bay bohemian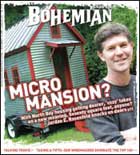 Micro Mansion?
With North Bay housing getting dearer, 'cozy' takes on a new meaning. Seventy square feet, anyone? Jordan E. Rosenfeld knocks on doors.

Green Blues
North Bay pest controllers strive to think outside of the bottle.
The Byrne Report
Crack of Light.
News Briefs
SSU, R.P. Rapes.

Car Culture
'Crap Cars' drives home the humor.

Oil Overload
'Syriana' may have too much going on for mainstream audiences.

MORE MOVIE REVIEWS

MOVIE TIMES

Wash His Mouth Out
Is Blowfly more than just a loosely handled firework of filth?
Even More of Les
Primus chieftain releases paean to solo projects.

MORE NIGHTLIFE

NIGHTLIFE CALENDAR

World-Class Winemaking
'Wine Spectator' Top 100 has the North Bay written all over it.
First Bite
Red Rock Cafe.
Real-Life Kitchen
Presto Pesto.

BOOK A RESTAURANT RESERVATION

FIND A RESTAURANT REVIEW

Pretty Pictures And Big Type
Holiday gift-giving is the excuse you've been looking for to buy those ridiculously glossy art books.