Features & Columns
Hemp Camp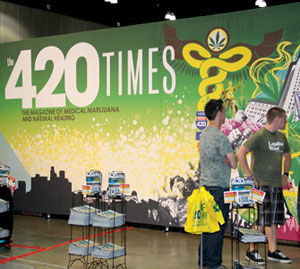 CALIFORNIA'S weed party might be coming to an end. At least, that's was the vibe at San Jose's HempCon last weekend. On Saturday afternoon, I trekked to the San Jose Convention Center's South Hall—the official name of that glorified white and blue tent on South Market street—for the second day of a three-day gathering.
"Whether you are a patient or someone who wants to get educated more about medical marijuana, you have got to be there," the event's website promised.
The convention was split up into two sections—one open to the general public, and another limited to only those with a valid doctor's recommendation. Evaluations were available on the spot for a "special" price of $60.
I've attended several marijuana conventions. Like those past events, HempCon attendees reflect the astonishing diversity of the cannabis movement: black, white, Asian, Hispanic, handicapped, painfully thin women modeling in bikinis.
But unlike the festive atmosphere of other weed fests, HempCon was more subdued, in part because of the low attendance. Between seminar sessions, I entertained myself by chatting up vendors and and playing a game I call "Spot the Undercover Cop."
"Everyone kind of has their heads down right now," said Jeremy Roseman, a Los Angeles–area rep for "cigarette" rolling technology company Futurola. He said the recent fed crackdown on landowners, coupled with a state appeals court ruling saying cities can now ban dispensaries, has many cannabis providers spooked.
But there were still people attending HempCon to have a good time. Hip-hop music blasted from inside the patients' area. Bikini girls handed out fliers and faked smiles while posing for cell-phone photos with creepy dudes.
Not all vendors were necessarily pot-related, like the Academy of Cosmetic Tattoos booth, or Blow Clean, a device that allows people with ignition interlock devices—usually those convicted of DUIs—to "get started anyway."
"Is this legal?" I asked the woman sitting in the booth. "It's for if you use mouthwash or drink orange juice," she said while adjusting her cleavage-revealing dress.
There were tons of freebies, too: rolling papers from Futurola, a lanyard from Nor Cal Bail Bonds and the latest issue of Cali Chronic X. "We're all about sex, buds and rock & roll," editor and publisher Jeffrey Peterson said as he pushed the latest issue into my hand.
Inside the patients' area, a Utah-based company handed out samples of Chronic Jerky. Surprisingly, only two San Jose collectives showed up to the event: Sanative Sanctuary and Elemental Wellness.
One HempCon organizer, who declined to give his name, said most San Jose dispensaries put off signing up for the event because they didn't know if they'd still be around after the city's cannabis regulations went into effect. Those regulations have since been suspended as the city considers changing its ordinance or holding a special election in response to a successful referendum effort by medical cannabis supporters. But the HempCon organizer said, the low attendance was also partly due to there being so many pot conventions in the Bay Area. "The novelty has kind of worn off," he admitted.