Features & Columns
Tax Spat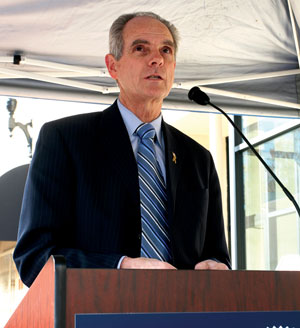 WITHIN HOURS of receiving 17 boxes of signed petitions, the San Jose City Clerk's office determined that enough signatures were collected to temporarily suspend a new medical marijuana ordinance.
Citizens Coalition for Patient Care (CCPC) ran the petition drive, and the County Registrar of Voters (ROV) now has between 30 and 60 business days to perform a random signature-verification check.
If the ROV determines that the petition is sufficient, the City Council will then decide whether to repeal its own ordinance or let San Jose voters decide the issue in an election. The referendum is a challenge to the council-imposed ordinance that would have capped the number of dispensaries at 10 and required onsite growing.
Mayor Chuck Reed has signaled he's willing to take the scuffle to the ballot box—and for cannabis dispensaries to pay for it.
On Nov. 1, a few days after the petition drop-off, Reed proposed temporarily hiking the tax on dispensary receipts from the current 7 percent to 10 percent, the maximum permitted under Measure U, which voters passed last year.
"The probability of election costs of more than $1 million could threaten our ability to preserve the very services voters intended to fund with the marijuana business tax," Reed wrote in a memo to the Rules and Open Government Committee. "I propose that any city costs that may be associated with an election should be paid by the marijuana business industry" through the tax increase.
But CCPC hopes it doesn't go that far. "There's no need to raise the tax, because this doesn't need to go to an election, if the city is reasonable going forward," says Rich Robinson, the chief campaign advisor for CCPC. "If the goal of the mayor is to have regulations that work, we are certainly willing to sit down at the table and do that."
Councilmember Pierluigi Oliverio says raising the tax means the mayor is "calling the bluff" of cannabis supporters. Voters in San Jose rejected Prop. 19 in 2008, which would have legalized recreational cannabis use, but some districts supported legalization.
If the council goes forward with a special election, "then it's a real challenge to the medical cannabis community," Oliverio says. "Can you convince voters to say, 'No?'"
While it's too soon to say who would triumph at the ballot, the advantage might go to medical cannabis activists.
"Who's going to run the campaign against collectives?" Oliverio asks. "I think you might have to give the upper hand to the medical cannabis people, because they'll have the money to run a campaign."
Over the 30 days CCPC gathered signatures for the peitition, the group says that nearly 8,000 new voters were registered and more than $200,000 was raised.