Features & Columns
A Theory of Flight by Andrew Pham
An excerpt from Andrew X. Pham's new book 'A Theory of Flight'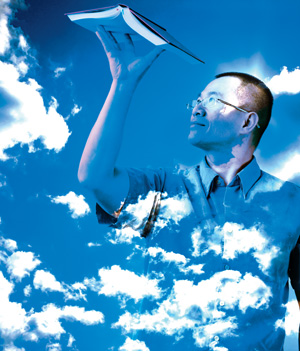 When I called author Andrew X. Pham, he was about to take off for Thailand, where he is homesteading a piece of jungle land on the Mekong River.
The biggest problem? "I'm right up against the elephant sanctuary; the elephants come down from the mountains and trample the crops and eat up the corn."
Pham, who grew up in San Jose and attended Andrew Hill High School, has enjoyed critical acclaim for Catfish and Mandala: A Two-Wheeled Voyage Through the Landscape and Memory of Vietnam (Picador) and The Eaves of Heaven: A Life in Three Wars (Broadway). The first book began as a travelogue but became a larger story as Pham interleaved tales of his family's experiences during the Vietnam War (an 8-year-old Pham was witness to the final chaos of 1975, when American troops exited the country) and their journey to a very different life in America. In The Eaves of Heaven, Pham explored in more detail the story of his father, from the French occupation and World War II all the way to the 1970s.
Pham is working on a third volume of family history, to be called The Japanese Officer, about his maternal grandmother, who was married to a Japanese colonel and became a resistance fighter in the war against the French.
Longtime readers of Metro will remember Pham as a food reviewer. "I got started with Metro after I quit my cushy job in engineering," he recalls. "I had been reading Metro for a long time. There were a number of cuisines that they weren't covering at the time—Mexican and Asian mostly." He contacted Lorraine Gengo, then Metro's editor, in 1994, and jumped into a new gig, contributing reviews, as well as features and reporting, until 2000, when he became, a footloose traveler, soaking up the experiences that would form the basis for his new volume, A Theory of Flight.
Pham's books have been published by major houses, but he decided to self-publish his latest works—A Theory of Flight: Recollections and A Culinary Odyssey: My Cookbook Diary of Travels, Flavors, and Memories of Southeast Asia—and distribute them digitally on Amazon, iTunes, Barnes & Noble and Scribd.
A Theory of Flight features 19 very personal essays about "a span of life, people, loves, some questions, and the cascadings of choices, the pages drawn from a few free, indulgent years...," as he writes in his author's note.
The excerpt here comes from the first chapter of A Theory of Flight, called "Fly." Pham describes the risky rapture of his first time airborne in a glider—an experience made all the more meaningful because it comes in the wake of a bad breakup and represents both physical and emotional release. The flight took place in the Mission Peak area near Fremont.
Read an excerpt from 'A Theory of Flight'
For more information, see andrewxpham.com