Features & Columns
Aesthetic Growth
The School of Visual Philosophy continues to expand, carving out
an analog sanctuary in a digital world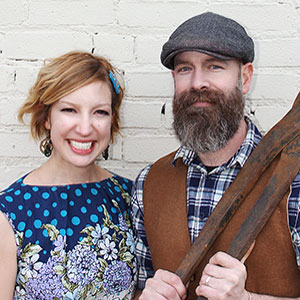 Its defiance of Silicon Valley norms begins with its name.
In an ecosystem where new creatures hatch with zippy and expensively conceived monikers like Fitbit or Splunk, that name—The School of Visual Philosophy—is an outlier. Sprouting up from a region famous for inventing the future, the name falls on the ear as positively 19th-century.
But the SVP, as it has come to be known in shorthand, fits as snugly into 2019 as any other start-up in the Valley. The aspiring arts academy is not new; it first opened its doors near the Children's Discovery Museum in 2013. But in the last few months, it has relocated to a dramatically larger space at 1065 The Alameda, directly across the street from Recycle Bookstore in the building that generations of San Jose denizens will remember as Fontanetti's Batting Cages.
Yet, before you step through the door, there's one inescapable question to be addressed: So, what the heck is "Visual Philosophy?"
The term is the brainchild of the school's co-founder Yori Seeger, though he claims only to be the midwife. As an art student in San Francisco many years ago, Seeger and a pal were stuck in traffic one day discussing the nature of art.
"He said something about 'visual philosophy,' and I was like, 'Wait a minute. That's an awesome term.
I don't know when and I don't know how, but someday I'm going to use that.'"
Years later, when he was ready to open his new school of the arts, Seeger tracked down his friend on Facebook for permission to use his coinage as the name of his new business. The friend shrugged and told him, "I have no idea what you're talking about."
Seeger is telling the story through his impressively luxuriant James Garfield beard at the new site with the words "VISUAL PHILOSOPHY" emblazoned on the wall behind him in billboard-size letters. Beside him is his wife, business partner and fellow artist Dana Harris Seeger.
"To us, art is a language," Dana Seeger explains, "and it's a visual language. If you think about how you approach the world, and the lens which you look through, we feel like art can be that lens. So for us, art is a visual philosophy."
So, the term is just a particularly high-flung way to say "art"—though making your business sound like an Enlightenment-era French salon is probably a much more savvy marketing move than calling it "School of Art."
Actually, SVP is several things. It is a mom-and-pop business, literally—the Seegers have taken on this daunting entrepreneurial task in the teeth of their most intense parenting years (They have a 4-year-old daughter and twin sons on the verge of 2).
It's also home to a community of South Bay artists. The school rents out 32 small studios to painters, printmakers, sculptors and other visual artists, as well as larger spaces to a couple of small companies.
And, perhaps most aspirationally, the SVP is a school that provides instruction in a number of decidedly old-school art forms such as woodworking, bronze casting, painting, printmaking and even blacksmithing.
AWAY FROM KEYBOARD
Eva Smith Glynn had zero experience as a visual artist or craftsperson when she first visited the School of Visual Philosophy in its old venue on Auzerais Avenue. She was with an artist friend at the time, both of them participating in the Silicon Valley Tour de Coop, an annual bicycle tour of the South Bay's chicken coops. By coincidence, they happened to stop by the SVP to check out an art exhibit.
Glynn, a marketing executive in the financial sector, was slowly drawn into SVP's orbit, and today she sits on the school's five-person non-profit board of directors. In the meantime, she attempted something extremely out of character for her. She learned blacksmithing.
"It was hard work," she says of the class she took in forging metal with Yori Seeger. "I went to a party the next day, and I couldn't even lift up my wine glass."
Beating molten metal into shape wasn't only a physical challenge; it was a mental workout as well. "It really tests your visual thinking, as you try to figure out how the metal moves to make a shape."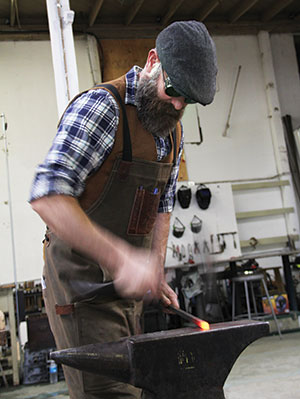 In the midst of the world's most prominent high-tech corridor, this new arts school is offering an entirely different kind of tech. If Michelangelo stumbled out of a time machine at Diridon Station in 2019, the only place that would make any sense to him is the SVP.
The tools here are not exclusively old tech. In the last couple of years, the Seegers have launched successful Kickstarter campaigns to buy a laser cutter and a 3-D printer. But most of the technologies here are tools that have been useful for generations. Within sight of the school's new 3-D printer is a printing press not unlike what Ben Franklin would have used to publish Poor Richard's Almanac.
The Seegers' business model is built on the idea that tech workers who sit at a computer screen all day will be eager to engage with a more hands-on technology. And, they say, many of those enrolled in their classes are software engineers looking for something more elemental, such as the bladesmithing class, one of the school's more popular draws.
NEW OLD SCHOOL
But SVP is not a maker space that exists solely to provide the community with access to tools—in the mold of TechShop (which filed for bankruptcy a year ago). It has moved away from a membership model to emphasize its class schedule. At its core, SVP is laying the groundwork to one day be a legitimate, accredited, certificate-granting art school.
"Dana and I have been teaching and working in colleges and universities for more than a decade," Yori Seeger says, "and we don't agree with the way the educational system is treating art practice. We wanted to make changes. And we realized the best way we can make those changes is not from within a system, but to make our own school."
The Seegers are committed artists in their own right. Yori graduated from the San Francisco Art Institute in sculpture, and among his many apprenticeships were several in Florence, the spiritual epicenter of classical sculpture. Dana is a printmaker and painter with an MFA from San Jose State, who also teaches at SJSU.
At the SVP, they both teach classes. They've brought in a number of other teachers as well, along with some guest artists—including Jason Arkles, who hosts The Sculptor's Funeral, which might be the world's only podcast devoted to figurative sculpture.
"They're the real deal," says board member Glynn of the Seegers. "They're doing these college-level classes. They believe in artisan training. They are entrepreneurially natured in that they really want artists to become self-sufficient and learn how to be in the world doing their art."
The SVP moved from its original location out of necessity, as the building they leased was sold to be razed for new housing. Scrambling to find a new place, the Seegers found that warehouse rental pricing had risen between 200 and 300 percent since their original opening. "We didn't think we were going to make it," Yori says.
Then they found the Fontanetti's Batting Cages site, which gives them 13,000 square feet—close to double the 7,500 square feet they had on Auzerais Avenue—and keeps them near downtown, which could be culturally and economically transformed by the proposed Google Transit Village, the much-hyped development project centered on Diridon Station. Final approval of the massive project is still a couple of years away, but the SVP is now only a few blocks from the boundaries of the proposed Google development. Whatever benefits come from Google's plans and the expected arrival of BART in the middle of the next decade remain the stuff of speculation, especially when it comes to the fortunes of one business. The Seegers are reluctant to rely on the rosiest projections of what downtown San Jose might look like a decade from now. Still, they can't escape the irony that the success of their old-tech business may be dependent on the ripple effects of new tech.
"You can look at it multiple ways," Yori says. "My great-grandparents lived on Story Road back when it was still a dirt road. Look, things are going to change. Cities change and evolve. As long as we're able to keep our vision alive and go with the growth, we'll be alright. But we won't know until it's here."
ARTISTIC FREEDOM
The School of Visual Philosophy held its grand opening at its new site on the same evening that the SAP Center, about a half mile away, was hosting the NHL All-Star Game. Fans in hockey sweaters wandered past, some curious about the line forming outside the SVP.
Inside, co-founder Dana Seeger admitted that she recognized few of the faces coming into her place. The opening was a chance for SVP to show off its bright new space, but it was also an opportunity to showcase its community of artists. The small private studios on site are all occupied and there's a waitlist to get a spot. If there is a new arts culture emerging in San Jose, the artists at SVP are its rank and file.
Termeh Behbahani represents the power of the lure of old tech in a world dominated by new tech. She was born and raised in Iran and moved to the U.S. about eight years ago to study mechanical engineering. Then she took a painting class at Foothill College.
"The moment my brush touched the canvas, I knew I was going to do this for the rest of my life," she says. Behbahani told her parents that she was changing majors. To her surprise, they stood behind her. Eventually, she graduated from the California Institute of the Arts (CalArts) and has been at SVP for about a year, concentrating on creating her abstract acrylics. "This place gives us everything we need. I just come here and paint for hours and hours."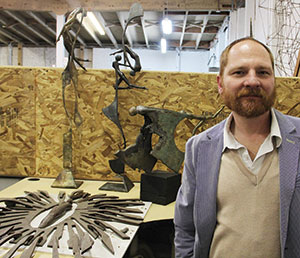 A neighboring painter, Rupy Kolati, grew up on the East Side in a Punjabi-Sikh family. She studied classical drawing and painting at the Sadie Valeri Atelier in San Francisco and New York, and now wants to blend her classical Western training with the vibrant tradition of her Indian background and the surrealism of her graphic arts work. Like Behbahani, now that she's graduated, Kolati has chosen San Jose as the launching pad for her artistic career.
"There's a spark here," she says. "I lived in (San Francisco) for three years, and artists have all moved to Oakland. That same Oakland vibe that everyone was feeling 10 years ago is happening here now. I know I'm in the right spot."
Sculptor Nicolas Echeverri was SVP's first intern five years ago. Originally from Colombia, he offered his labor to the school in exchange for a chance to work in the metal foundry. Eventually, he became a kind of apprentice to Yori Seeger, learning to weld and cast bronze. "Basically, because of the trade, I was able to save thousands of dollars and get a good education," he says.
And by education, he doesn't mean just vocational training. Visual philosophy involves some intellectual exercise as well. "He will take a simple question," Echeverri says of Yori, "and make it into a philosophical conversation about art, about the importance of art and the deeper meaning of art. And the importance of art is to create a conversation about the deeper meaning of life. He is good at taking a simple matter and making it profound."
Yori Seeger's philosophical approach evokes classical education and, he feels, separates his business from a simple training facility. "It depends on the class," he says. "Some of our classes are just skills-based. In a blacksmithing class, I'm not going to give you 10 hours of art theory and art history. But if you take the sculpture class, we're absolutely going to be breaking down the linguistics of sculpture and how to deliver a system of communication. And that absolutely involves history and theory and philosophy."
The Seegers' ambition goes far beyond just keeping the doors open at SVP. They want to undermine what they see as the sclerotic nature of contemporary arts education in colleges and universities. They want to run an accredited school of fine arts. "We want to create a Ph.D. program," says Yori. "That's going to be a lot longer journey that we initially thought. But we can start with a master's program and eventually move into a Ph.D."
Dana Seeger's ambitions are a bit more bullet-pointed. "We'd rather do five things well than a hundred things just OK. And we've talked about the top three that we really want. We want to offer the best art classes in the San Francisco Bay Area. We want to cultivate a creative community. And we want to combine fine art with technology."
Her husband smiles. "And have some fun, too."