Features & Columns
Silicon Valley Bars & Clubs 2013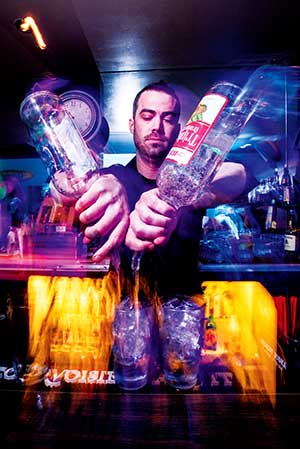 Silicon Valley drinkers and business owners have finally decided that a bartender should know more than just how to crack a tallboy and there should be more offerings than just the standard pub fare of nachos, burgers and wings.
There are still plenty of options for partiers to get their freak on the dancefloor, and plug-in and rock out with a night of live music, but on the other end of the spectrum, the scene is maturing with mixologists who dig deeper than standard cocktail menus, beer aficionados who make an effort to pour hard-to-find brews and cooks who take "pub grub" to the next level.
We've assembled a collection of some of these newcomers to the scene along with Silicon Valley staples, the bars and clubs that outlive trends and fads usually by attracting a regular crowd with the perfect cold beer, a strong cocktail and good conversation.
Bar Crawl: A One-Night Adventure Through 11 Silicon Valley Bars
The goal of any good bar crawl should be to enjoy a variety of drinks in a variety of different bars with a variety of people, and make it home safely without needing to actually crawl. Unfortunately, this is rarely the case.
Silicon Valley is full of new bars and clubs championing new trends and neighborhood staples that have served loyal patrons today. We've assembled lists of some of these favorite watering holes. We hope you will use the information to find something new or revisit an old favorite with your personalized bar crawl (with a designated driver, of course) around Silicon Valley.
Barfly and Mr. Harada Visit Patty's Inn
Whether you believe it or not, not too long ago people were perpetually under the influence of alcohol. Booze, that permutable antiseptic, was added to all drinks to prevent bacterial infection. Luckily, we as a species enjoy the stuff very much—some of us, a little too much.
History of Bars in Silicon Valley
The growth of Silicon Valley, including the birth of the video-game industry, is inseparable from bars and clubs. Some of the most profound innovations that altered the technological landscape of Planet Earth were originally thrashed out or tested in various watering holes of the South Bay.