Bars & Clubs 2019
Freedom of Choice
Craft cocktails, brainiac beers, video game bars and more—late night
revelers have never had it so good
Intro | Shrubs | Cocktails | Old Fashioned | Beer | Video Game Bars | Sports Bars | Trivia Night | Wine | Music & Dance | Gay Bars | Gentlemen's Clubs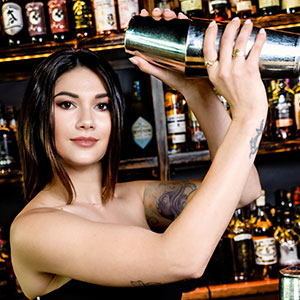 Before the craft cocktail renaissance and the advent of the milkshake IPA—before New York's famed Stonewall Inn made a name for itself by literally fighting for gay rights and millennials demanded the pairing of pinball and pilsners—there were just bars.
Some were tucked away in the wings of local motels. Some were windowless strip-mall affairs—serving up big shots, light beers and little else. Others hung Irish and British flags on their walls and shelled out for Pay Per View soccer games while pouring such exotic labels as Guinness and Jameson. The Saddle Rack had a mechanical bull.
Times have changed.
These days drinking is about more than tying one on, cutting loose on the dance floor or whooping and hollering for the local team. Today's barkeeps use power tools to cut crystal clear cubes out of massive blocks of ice and source obscure liqueurs from Iceland in an effort to delight and surprise customers. In the craft beer world there is a veritable arms race going on, as brewers seek to resurrect long-lost strains of yeast and use computers to dial in their hoppy concoctions.
What's more, consumers expect customized and tailor made nightlife experiences. For those seeking something more than vodka, soda water and citrus, there has never been a better time to go out on the town. Silicon Valley's bars and clubs scene is as diverse as its ever been.
Locals now have the opportunity to sample the bleeding, blood-orange-red edge of the craft cocktail scene, learn about the burgeoning Japanese whiskey market, get hopped up on some seriously adventurous brew, or blast their way through Area 51 with a pint in hand. In fact, in downtown San Jose, it's possible to experience all of this—and more—on a single block. Read on to learn more about all of the lively experiences our region has to offer after the sun goes down.
As for the South Bay's most venerated establishments—the dives, lounges, pubs and honky-tonks—they aren't going anywhere. They will continue to serve as community gathering places where patrons can blow off steam, meet interesting newcomers, chat with regulars and swap big fish stories.