Features & Columns
C2SV's Most Memorable Moments
A look at some of C2SV's most memorable moments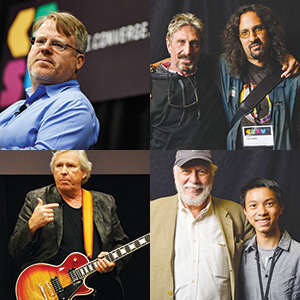 The beta version of C2SV erupted last weekend with a multitude of innovative thinkers presenting their ideas in the San Jose McEnery Convention Center and dozens of bands gigging at numerous venues throughout Downtown San Jose, all the same time. It was long overdue.
Robert Scoble, the social media rock star of the universe, opened up the conference by evangelizing the 24/7 monitoring of all human behavior as a useful benefit for every single one of us. Smart devices will soon be able to change what they offer you in real time, depending on who you're with, where you are, what you're eating or what time you go to bathroom every day. True, it's already happening to a large degree, but Scoble, along with Shel Israel, has a new book about it, The Age of Context, so the two spoke at length, providing numerous examples of how all this is about to unfold—health applications, scheduling facilitation, social and cultural aides, nanobots monitoring your bloodstream and more.
Friday's highlight came in the form of two living legends: Steve Wozniak and Nolan Bushnell, who hadn't shared a stage together in about 25 years. Woz helped start the personal computer industry, as we now know it, while Bushnell helped start the video game industry, as we now know it. Both did not know what they were starting 40 years ago, and both were absolutely broke when they started. They could not have rented a $4000 one-bedroom apartment in San Francisco.
Both Woz and Bushnell told many stories, as expected. Woz said games are his most important focus these days, just since they are the primary motivating factor for kids learning how to program. Bushnell, on the other hand, regaled us with stories of female Pong hustlers in the 1970s, that is, since women always seemed to be better at Pong than men in the bars of Silicon Valley back then. It was truly a historic moment to see those two legends on the same stage, right here in Silicon Valley, where all of this originated in the first place, and with everyone reminding everyone else that nothing began in San Francisco; rather, it all began in the South Bay.
Saturday, James Williamson, guitarist of The Stooges—that is, before and after a 30-year distraction in Silicon Valley—provided a half punk, half high-tech elaboration of his own unique life story, effortlessly switching from '70s glam rock stories of Iggy peeing all over the nightclub to tales of arcane business meetings at AMD. Jack Boulware of the Litquake Festival masterfully interviewed Williamson onstage, and at the end, Williamson even deconstructed the classic Stooges anthem, "Search and Destroy," by playing the riffs live and explaining the influences behind them. It seemed like a gorgeous ridicule of product demos, that is, instead of some hair-metal dufus noodling on a lime green Ibanez at the NAMM show, it was the guy who helped pioneer punk and grunge and perhaps even metal, for that matter.
Local bodypainter Trina Merry even brought a team of models that everyone intended to see her paint in the pre-function space. Unfortunately, though, Team San Jose, who manages the facilities, booted them out, apparently for bringing their own food into the building, which somehow violated some fine print in a contract somewhere. If Team San Jose really thinks "innovation starts here," they would have benefited from listening to all the rock star innovators and geniuses presenting at this conference.
One of those rock star geniuses was the notorious John McAfee, who, after founding numerous companies and writing yoga books, became a fugitive in Central America. At C2SV, he fielded questions, philosophized about the future of security and cryptology, while revealing lurid details on his newest venture. McAfee is hard at work on a new type of device and microweb infrastructure that he says NSA spies will never be able to penetrate. We shall see.
In the end, Saturday evening Iggy and The Stooges provided a gorgeous capper on the music component of C2SV. To use non-tech language, it was just so awesome to see hundreds and hundreds of people, most of whom knew each other, all congregating in the park and peacefully watching the shirtless 66-year-old godfather of punk gyrate all over the stage. Despite the failure of the guitar tech to provide basic services to James Williamson, the band proved why entire genres can be traced back to what the Stooges created more than 40 years ago. Put it this way: Williamson is the Nolan Bushnell of punk, while Nolan is the James Williamson of video games. That is something you will never see in San Francisco, New York, Toronto, Austin or anywhere else for that matter. It would only happen here in Silicon Valley. I look forward to C2SV next year.