C2SV Preview
C2SV Preview
A sneak peek at just a few of the great speakers and musicians
at this year's Creative Convergence Silicon Valley
Intro | Digital Feudalism | Virtual Reality | Start-Up | The Cameraphone | Tech Tunes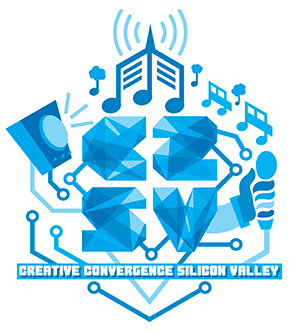 Silicon Valley is the global hub of technology, innovation and entrepreneurship. It was here that some of the world's largest and most influential tech companies companies sprang from the garages of counter culture-minded makers.
It should come as no surprise that a region so rife with creative, free thinkers, has also long been a breeding ground for innovative music.
The organizers of of Creative Convergence Silicon Valley, C2SV, say they aim to "celebrate the nexus of cutting-edge technologies and creative arts" by shining a spotlight on "the future of convergence in today's fast-moving global economy."
The two-day event will feature technology entrepreneurs and thought leaders in panel conversations and live demos, followed by networking cocktail parties and live music from some of the area's best local bands—as well as buzzed-about performers from around the Golden State.
The technology portion of this year's C2SV will be held at the California Theatre, while musical performances will take place at a variety of venues in San Jose's SoFA District. This, organizers say, will give "participants the ideal environment to connect, network and make deals happen."
There's certainly a lot to take in this year. Considering the breakneck pace of modern life, ever-accelerating thanks to the technologies developed right in our backyard, it's understandable that one might not be able to attend every session or every show on the C2SV calendar.
But there are a number of speakers and artists sharing ideas and performances that ought not to be missed.
In his keynote speech on Friday, thought leader Jeremiah Owyang will warn of the dangers of "digital feudalism." John Markoff, author of Machines of Loving Grace and an early contributor to understanding artificial intelligence, will sit down with cameraphone inventor Philippe Kahn and serial entrepreneur Jerry Kaplan in separate discussions. Two highly influential actors in the field of virtual reality will explain why the long-promised world of VR really is right around the corner. And attendees will have the chance to hear from a very young entrepreneur and startup co-founder who believes her platform will soon revolutionize the world of social media and digital communications.
As far as bands go, it's hard to go wrong. However, there are a few artists who really stand out. There's the San Jose indie-pop quartet, A Yawn Worth Yelling; the recent Plug Research-signee, Anya Kvitka (and her band, The Get Down); the Santa Cruz-based lo-fi rocker GRMLN; the churning punk of local darlings, Dinners; and the spaced-out, beachy vibes of Babes.
Intro | Digital Feudalism | Virtual Reality | Start-Up | The Cameraphone | Tech Tunes