Features & Columns
Could Legalization Spell the End of Cannabis Culture?
How marijuana legalization could spell the end of cannabis culture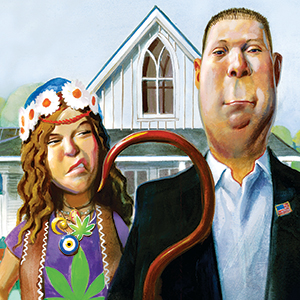 A winemaker, sought-after vineyard manager, cannabis aficionado and Deadhead, Phil Coturri has loads of stories to tell about the cannabis industry's current upheaval.
The founder and CEO of Sonoma's Enterprise Vineyard Management and the co-owner of Winery Sixteen 600, Coturri views wine and weed as compatible in the field and on the dining room table. He'd like to see more pairings of the two, and with food, as well.
But perhaps more importantly, Coturri wants to warn us all of the dangers ahead for cannabis culture—before regulators destroy something that has been shaped by growers, smokers, farmers and aficionados during the past half century.
Indeed, he has thought carefully about the repercussions of his words and deeds. He hasn't forgotten that cannabis is illegal under federal law and that Attorney General Jeff Sessions has put it near the top of his drug enforcement list.
I've known Coturri for years, not only as a grape grower and winemaker, but also as a cannabis connoisseur. I've previously written about him under pseudonyms. That's the way he always wanted it. He's only allowing his name to be used in print now because he recognizes that cannabis is in crisis and needs all of the friends it can muster.
As a connoisseur of wine and weed, he's worried that in the rush to legalize, regulate and normalize marijuana in California, the beauty of the plant and its aromatic flowers that he has known intimately since his college days will fall by the wayside. That's why he's coming out of the cannabis closet little by little, slowly and steadily. Indeed, he invited me to his office because he wanted to sound an alarm, before bureaucrats crush a whole way of life.
Coturri isn't the only one to sound an alarm. All across Northern California, small growers share his fear that new rules will drive many of them out of business and hand the pot industry over to the guys who have big money and who can afford to hire lawyers and consultants. Then, too, Coturri and his ilk argue, quality will suffer, as weed goes corporate and quantity soars. Some say the quality has already declined and that it's essential to save the endangered world of boutique pot.
"We also need to remember the vital 50-year history of cannabis in our community," he says, "and remember that it's an integral part of our values and our traditions. We have to keep it alive. It provides meaning to what we do and how we think and feel."
But on the other hand, Coturri says he understands some of the reasons why the industry is being so intensely regulated by the government, more than any other crop in California.
"Every Tom, Dick and Harry is growing pot," Coturri says. "For the most part, they don't understand the complexities of the plant, or its medicinal and therapeutic properties."
These Johnny-come-latelies often don't know what real pot ought to taste like, smell like and look like, he adds.
Patrick Malo, co-founder of Green Trade Santa Cruz, sees the threat coming from the other side of the spectrum. "We are going to see a big influx of products from these new corporate companies with large gardens and, in general, it will be hard for them to keep the same quality standards," he says. "They will turn toward less and less organic production and sustainable methods. That's what we see in conventional agriculture."
Malo adds that the business model being proposed at state and many local levels are bound to push some smaller businesses out.
Jeff Brothers, a senior advisor to FLRish, Inc., a vertically integrated cannabis retailer, cultivator, nursery and manufacturer who works with South Bay collectives, might probably qualify as "the suit" in Malo's outlook on the evolving cannabis industry. A former solar and energy portfolio trader, Brothers first considered medical marijuana to be "a sham" when approached about entering the industry for broad-scale cultivation.
But after studying the history of cannabis and the therapeutic benefits, Brothers came to realize not only the market potential, but also that marijuana never should have been listed as a Schedule I drug by the federal government in the first place. "That was the sham, not a medical market," Brothers says.
With the passage of Prop. 64 last fall, and now the state's frantic effort to install the Medicinal and Adult-Use Cannabis Regulation and Safety Act by the beginning of 2018, less than 100 days remain for legalization in California. Brothers believes there is room for smaller, boutique growers in the future, as well as deep-pocketed new players that will cover the bulk of market demands, similar to how the craft beer and wine industry work.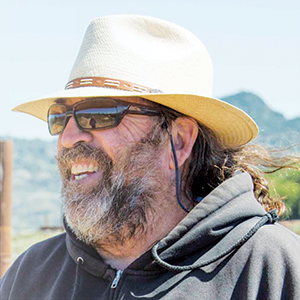 "I don't think cannabis will be all that different," Brothers says. "When I put my consumer hat on, I'm thrilled there will be some larger farms that will have some organic growing techniques at an affordable price. If you believe it's a plant that the human body appreciates and helps make life better, and the wellness aspects of the plant, you want that plant to be available to more consumers. Is that scary to legacy growers? Sure, because they've had a nice market, albeit gray, and they've got good pricing over a product that has had very little oversight and compliance requirements."
Brothers now works with Steve DeAngelo, the Harborside impresario who's often credited with creating the standard for modern-day collectives, and they're working on ways to fill the gap between what's available and the coming wave of demand.
Brothers asks: "Will [artisan brands] ever create the efficiency and the supply chain issues that a modern industry will require? No, I don't think so."
Wine Meets Weed
In some ways, Coturri seems like the last of the old-school hippies. He grew up and came of age in the counterculture of the Bay Area, which thrived on pot, protest and psychedelic rock.
Coturri arrives for our meeting right on time, smelling of the great outdoors and as fresh as one of the many vineyards he manages.
"Come springtime, vineyards take over my life," he says. He wears glasses, a full beard, boots, shorts and a sweatshirt that reads: "Resist." Indeed, he's probably as much of a resister now as he was during the Vietnam War era, and as critical of Trump as he was of presidents Johnson and Nixon.
On the wall of the office are pictures of some of Coturri's heroes: Janis Joplin; Beat poet Michael McClure; Jerry Garcia; Gary Snyder, the environmentalist and Pulitzer Prize winner; and Owsley Stanley, often described as "the King of LSD."
Born into a working-class Italian-American family in San Francisco, Coturri is a product of the city's bohemian and immigrant communities. His father and grandfather both made wine. His brother Tony makes wine. His sons Sam and Max also make wine. It's in their blood. So, too, is THC.
"I've heard people describe cannabis as a threat to wine, but I definitely don't see it that way," Coturri says. "I think it's time to emphasize to the connoisseurs in both worlds—the people who are using both—not to get wasted, intoxicated and high just for the sake of getting high, but to appreciate the flavors, the taste and the aroma. In my world, they're both familial—something to be shared with the whole extended family."
Coturri began to smoke cannabis at the age of 14. (He dropped acid, he told me, before he began to experiment with pot.) He grew his first crop on Sonoma Mountain in 1978. All four of the pot plants in his tiny garden were stolen. Still, he wasn't discouraged, in part because the California artist and longtime bohemian Robert Pearson McChesney showed him the marijuana that he grew in a greenhouse for his own personal use and the use of his friends.
McChesney was in his mid-60s; Coturri was in his 20s. "I was impressed," he says. "McChesney built his own house with his own hands, and he cultivated his own weed. Now I'm worried that the cultural descendants of McChesney will have a hard time surviving in the new overly regulated world of marijuana. I want them to be protected. I also want the heritage strains to be protected."
At the end of a hard day's labor, Coturri likes to go into his greenhouse and putter with his pot plants as a way to relax, unwind and be at peace with himself and the world. "Marijuana is an amazing plant," he says. "I enjoy watching the whole growing cycle, from the germination of the seeds to the flowering of the female plants. It has long been a passion of mine."
This past April, the New York Times published a couple of photos of Coturri. In one, he walks through a vineyard at Kamen Estate, which he manages; in the other, he's in his greenhouse surrounded by marijuana starts. The article that accompanied the photos describes marijuana as Coturri's "hobby."
Maybe that's the way it looks from New York. Here in the Bay, it's more like a quest for something that's hard to define and difficult to pin down, but that adds zest to life. The Times article also claimed that Coturri was as "exalted locally" for his marijuana as he was for his vineyard practices. That's an exaggeration, to say the least. As an icon of the organic and biodynamic California grape and wine industry, Coturri has mostly kept his cannabis connection under his hat and not advertised it.
As an undergrad in college, Coturri read and wrote poetry. Back then, he would have liked nothing better than to be a poet, though he realized that he probably would not have been able to make a living writing verse. Still, his love of poetry hasn't abandoned him and he hasn't abandoned it.
"Once a poet always a poet," he says. "I'm a poet in the vineyard and in the greenhouse, a poet with pot and with Pinot."
Jonah Raskin is the author of 'Marijuanaland: Dispatches from an American War.' Josh Koehn contributed to this report.