Features & Columns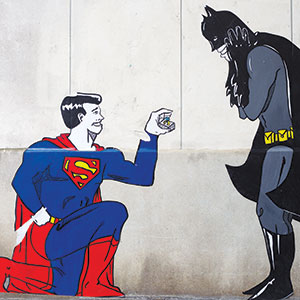 Marvel Comics writer Brian
Michael Bendis created a kind of meme—WWCAD?—when in an interview with entertainment news site Vulture.com he said, "You love Captain America? You know what Captain America would never do? Go online anonymously and shit on a girl for having an opinion."
The comic superstars of today are overshadowed by two writers. Few if any comics have gotten deeper into the psychology of the masked vigilantes, even 30 years after the groundbreaking Watchmen graphic novel came out. Watchmen's prescient creator, Alan Moore, wrote a comic in 1986 called "In Pictopia" about a city of cartoon characters experiencing gentrification. Playful funny animals and debonair crime fighters were pushed out of their already crowded tenements by masked bruisers, scarcely recognizable in their stubble and Goliath-sized muscles as the kid-friendly swashbucklers of yesterday.
Frank Miller, today a crank responsible for the indescribably low Holy Terror, helped carry out the process Moore was parodying when he revived a dangerous Batman in the mid-1980s. The Dark Knight Returns kept Batman alive, just as the phantasmagorical but occasionally serious-as-cancer 1966 TV show did—now available on Blu-Ray or on delightful MeTV reruns. The show was an urbane joke, but it tended to go into nightmareland and take its audience with it. Frank Gorshin's flawless imitation of noir idol Richard Widmark wasn't compromised by a green leotard.
Miller had arresting visual skills, taking the lessons of graphic artist Jim Steranko and Japanese manga in his use of negative space. It's Miller who may be longer remembered. He not only created and directed the movie Sin City: A Dame to Kill For, but also inadvertently brought us the new Teenage Ninja Mutant Turtles film, created long ago by a pair of fanboys pastiching Miller's run of Marvel's Daredevil. (Miller's ninja "The Hand" becomes "The Foot," the blind martial arts teacher "Stick" becomes "Splinter"—hey, this stuff writes itself!) Moore, sadly, is secluded from the comics world, coming forth infrequently to castigate a lousy prequelization of his work.
Three guesses as to how I know this. I used to make a stench out of myself, hanging around the comic-book shop near my college campus waiting for the newest X-Men, Daredevil, Peter Bagge's Neat Stuff and Daniel Clowes' Eightball. In writing about the various lives and deaths of DC and Marvel's caped assets, I can never be against the idea of the format, never be blind to its beauty or potential.
"I think it's subjective whether or not certain genres should be popular," says Kris Bartolome. "I've read a lot of bad superhero comics, but some of the best comics I've read were about superheroes. I do wish people were more adventurous with comics, instead of sticking to what they already are familiar with. And I do think what gets an undeserved amount of attention are the marketing gimmicks commonly associated with making comics collectible. I think the focus of comics should always be good storytelling."
My complaint is this: I want cartoonist Chris Ware's Building Stories to get the attention Archie's cadaver got. I want to see urban renewal for Pictopia, a place for autobiographical work, for comedy and the kind of wistfulness that curls up and wilts in any other medium except for words and pictures. I prefer Batman as detective to soldier. I prefer Superman wise and patient instead of angry and emo. I think the purpose of Wonder Woman is to put a brake on human folly—and the folly is rich in so many shoddy cross-media adaptations.
It's said that only computer games are interactive enough to survive deep into the next century. Such games give the brain a challenge that it's allegedly not receiving while passively sitting and taking in images. But the reader of comics has work to do—to imagine the leap between panels (as Scott McCloud's Understanding Comics points out). There is room for the unseen and indescribable in that invisible land. Dumb as the coverage was in this last year, the comic book is an old medium that never gets old.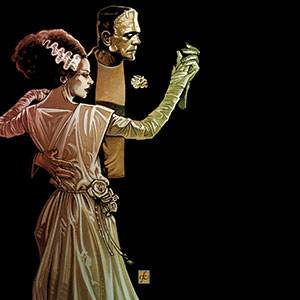 Strange Love
by Nick Veronin
Frank Cirocco, owner of Pop Daddy Vintage in Willow Glen, knows a thing or two about men in tights. For two decades he has been buying and selling comic books—along with a wide variety of 20th century pop culture memorabilia. But that's not all.
A graphic artist by trade, Cirocco drew for Marvel in the '80s. Comics were the first thing he was ever really passionate about. "I would say comics are the thing that got me interested in almost everything else," he says, adding that his love of comics played a major role in his decision to pursue a career in graphic design. That, the British Invasion and a general love of popular culture. "It's are probably where it all started—I mean comics and music."
But something changed when Cirocco started working for Marvel. His interest in buying and reading comics began to wane. He says he was too busy drawing to actually enjoy the genre as a fan.He left the comic book giant and never really returned—perhaps, in part, because the comic book industry turned away from storytelling to focus on spectacle.
"Since about the mid- to late-'90s until now we did get further away from the story being the most important thing about a comic book," Cirocco says. "Publishing companies got into big splashy pages."
As a graphic designer and former comic book artist, he can appreciate the emphasis on imagery over story. However, as a former fan, Cirocco can't see himself being drawn in by "characters draped across the pages." He needs more than that.
"When it comes to comics, story is the foundation that everything else rests on," Cirocco says. "I think there was a lack of that through the '90s and the beginning of the 2000s."
Comic book publishers pulled in impressionable boys with bright colors and explosions, and that might have held them through their teens with over-sexualized illustrations, Cirocco says. But adults won't continue to read in large numbers unless the stories measure up to the art.
"When I started reading comics, I was quite young. I probably didn't know the difference between a good story and a bad story when I was 10 or 12 years old," he says. "But to keep people coming back, you have to deliver a quality product."