Silicon Valley Comic Con 2018
Trouble Women
Intro | Call the Doctor | Cosplay Queen | Trouble Women | The Little Gentleman | Star Struck | The Prophet of Steampunk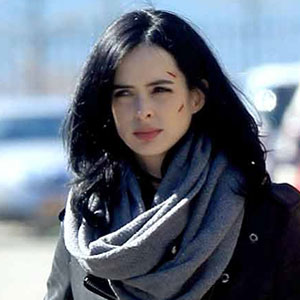 SV Comic Con guests Christina Ricci and Krysten Ritter share variations of the same first name, the Goth colors, and the aura of women who have been through it. Ritter, a sort of Louise Brooks for our time, stars as the titular character in Jessica Jones on Netflix.
Previously, she was the titular bitch in Don't Trust the B.... in Apt. 23, and had a prominent role in a number of episodes of Breaking Bad—she played Jane Margolis, the young lady whose backslide into drugs is greased through the love of her tenant, the drug-dealing Jesse Pinkman (Aaron Paul). She was trying to get clean, aiming to become a tattoo artist, while not having any ink on herself yet. Jesse and Jane were the most painful story in the show, and the easiest rebuttal to the claim that Breaking Bad glamorized meth.
Ritter is a different kind of figure on Jones. On the show, which just started its second season, she's a traumatized Marvel superheroine, the victim of the mind-fucking Purple Man (David Tennant, The 10th Doctor, played this deadly manipulator of minds). The streety private eye Jessica, mildly superpowered, has one particular skill. And that comes from Ritter herself: the actress has an eye-roll that can be registered on the Richter scale.
Christina Ricci has similar nocturnal appeal. She seems like an unusual choice for the Silicon Valley Comic Con, but check the credits. Ricci co-starred with a legitimate comic book figure, Casper the Friendly Ghost. Ricci was also the live-action version of Trixie in Andy Wachowski's Speed Racer film, and her most noted role was based on the art of the cartoonist Charles Addams. Ricci is also an Edward Gorey fan, enough so to have one of Gorey's characters tattooed on her wrist.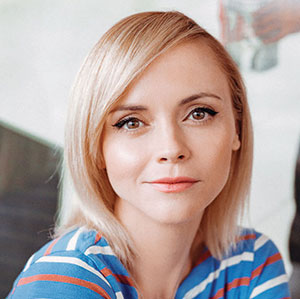 One reason why people get tattoos is because they want their skins thicker. It's not surprising that a character as unique as the 5-foot 1-inch Ricci went through it as a child. She's talked of her parents' acrimonious divorce, tales of bullying in her childhood in Montclair, New Jersey—a background familiar to viewers of The Sopranos. And today she's a spokeswoman for a national network of incest victims.
Ricci's signature role is as the wonderfully blasé and self-possessed Wednesday Addams in two 1990s Addams Family pictures. This pale, moon-faced daughter, murmuring her one-liners, must have been balm to countless odd girls all over the world. Fondness for the role led Ricci recently to pose for a photo in widow's weeds as Wednesday's mother, Morticia.
Wednesday Addams had a memorable line when she turned up on Halloween without mask and costume: she drawled, "I'm a homicidal maniac. We look just like everyone else." She's played Lizzie Borden herself, as well as the lover of the homicidal Aileen Wuornos in Monster—Patty Jenkins' directorial debut. Jenkins later went on to direct Wonder Woman. Ricci appeared in indie films as varied as Black Snake Moan and Buffalo 66—a kidnapping victim both times around.
Underneath the city brittleness and impatience, Ricci and Ritter share a layer of vulnerability. Both excel as women in trouble, finding a way out.
Christina Ricci
Apr 7, 12:30pm
Krysten Ritter
Apr 8, Various Times
Silicon Valley Comic Con, San Jose
svcomiccon.com