Silicon Valley Comic Con 2018
Cosplay Queen
Intro | Call the Doctor | Cosplay Queen | Trouble Women | The Little Gentleman | Star Struck | The Prophet of Steampunk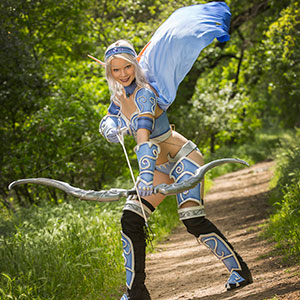 As a devoted and high-profile member of the cosplay scene, Sacramento native Macy Rose enjoys playing her favorite sci-fi, fantasy and video game. She's inhabited the bodies of Vereesa Windrunner from the World of Warcraft universe and Maya the Siren from the Borderlands video game franchise; and she's a dead ringer for Daenerys Targaryen from Game of Thrones.
When she takes off all the body paint, makeup, foam-core and plastic, she's a real-life hero—working as a teacher at a preschool for children with autism.
Rose will be a special guest cosplayer for all three days of this year's Silicon Valley Comic Con, joining fellow cosplay pros Ivy Doomkitty, Jacqueline Goehner, Kohalu, Liliphae, Mini Boba Fett, Valerie Perez and Yui Kanan.
"It's so much more than throwing a costume on and walking onto the floor," Rose says of her passion for cosplay. "You get to geek out over your favorite show or favorite character."
Rose says she was raised by parents who loved sci-fi and fantasy and regularly took her to Disneyland. She and her brother bonded over video games, like Super Smash Bros. "In our house we do geek," she says.
At this year's convention she'll be cosplaying as Spider-Man's girlfriend, Mary Jane Watson, Daenerys Targaryen and will be busting out her newest character, Rey—the newest hero in the Star Wars universe.
"I'm really excited about my lineup," she says.
But what is most exciting, Rose adds, is the chance to meet new comic, sci-fi and fantasy fans—especially the kids, whom she feels especially connected to, given her full-time job at the special-needs preschool.
"I like being able to meet kids dressed up as superheroes," she says. "That's really cool for me."