Feature
The Dan Behind The Curtain
Dan Vado, founder of Slave Labor Graphics and owner of Art Boutiki
talks Derf and the return of APE
Derf | Jhonen Vasquez | Alternative Press Expo Artist Panels | Dan Vado | Jimmie Robinson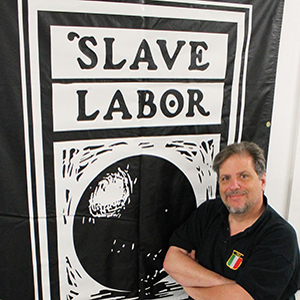 Dan Vado has made mistakes in his life. He'll be the first to admit that. One regret he has never been able to shake off was his decision to turn down My Friend Dahmer, a graphic novel memoir by Cleveland-based cartoonist John 'Derf' Backderf.
Backderf originally approached Vado—owner of the Art Boutiki comic book shop and music venue, and founder of the San Jose-based Slave Labor Graphics publishing house—asking if he would publish the book, which centers around the adolescence of Jeffrey Dahmer, one of the 20th century's most infamous serial killers.
At the time Backderf pitched the book, Vado says, it just felt "too soon" to be printing a somewhat sympathetic portrait of a man who had made national headlines for a series of heinous murders and acts of necrophilia and cannibalism.
Still, there's plenty Vado has to be proud of. Slave Labor did publish Backderf's first graphic novel, Punk Rock & Trailer Parks, as well as his third, Trashed! Derf credits Slave Labor Graphics with helping to launch the second act of his career.
After a bout with cancer, Derf decided to walk away from his long-running syndicated comic, "The City"—which ran in alternative weeklies across the country. "By the time I felt well enough again, the comics business had changed," he says in an interview with Metro's Richard von Busack (page 10). "If it wasn't for SLG, I couldn't have done Dahmer."
Vado is quite pleased that Backderf is attending this year's Alternative Press Expo, which will be held at the San Jose McEnery Convention Center's South Hall from Sept. 23-24. The 2017 celebration of alternative comics and graphic novels marks the third year since APE's return to San Jose.
Founded by Vado in 1994, the Alternative Press Expo was quickly snapped up in 1995 by Comic Con International. The San Diego-based convention producers ran APE until 2014—moving it to San Francisco in 2000. When Vado took APE back in 2015, he moved the expo back to its city of origin.
Since then, things haven't gone as smoothly as he would have hoped—as some fans and potential exhibitors have turned their noses up at the change of location.
That's why, Vado says, it feels so good to have a name like Derf on this year's bill.
"To have John Backderf coming out, that's a huge thing for me."
Another big name on this year's APE lineup is Jhonen Vasquez—the San Jose-born creator of Johnny The Homicidal Maniac and Invader Zim. SLG also played a role in bringing Vasquez's work to the masses, publishing his original run of Johnny stories.
"It's always nice to have him back," Vado says. "It showcases a local, homegrown talent who went on to truly impact the pop culture scene."
Here, Vado is referring to Zim's lasting influence—on fashion as well as cartoons.
"That was a groundbreaking cartoon," Vado says, noting that the show—which featured a demented, alien anti-hero hellbent on global domination—was a harbinger for the rise in popularity of an entire genre of darker cartoons to come.