Features & Columns
A Defense of Ethical Meat Production
Beef eaters can hold heads high again and cite Nicolette Hahn Niman's
new book when animal eating comes up in social conversation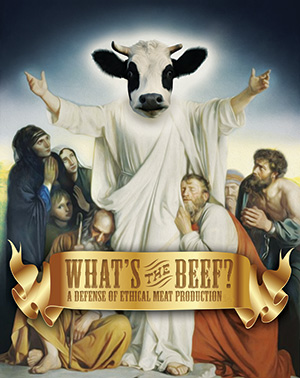 Ask a vegetarian why he or she doesn't eat meat and you'll get a variety of answers: Beef is bad for your health. Cattle are a major contributor to global warming. It's wrong to kill animals. Beef production contributes to world hunger. Cattle ranching leads to a loss of biodiversity.
Even those who eat beef sometimes do so with a heavy conscience. For many educated urban dwellers, eating beef is a guilty indulgence at best and a health and environmental scourge at worst.
But in Nicolette Hahn Niman's new book, Defending Beef: The Case for Sustainable Meat Production, she systematically dismantles many of the "myths" about beef. Not only is there is nothing inherently wrong with beef, she argues, but it's good for you and just might save the planet.
Defending Beef is a lively, scrupulously researched book, and Hahn Niman knows her stuff. She was an environmental lawyer for the National Wildlife Federation and later worked for Robert F. Kennedy Jr.'s Waterkeeper Alliance in New York. After meeting (and later marrying) Bill Niman, she quit her job with Waterkeeper and moved west. Bill Niman was founder and former CEO of Niman Ranch, located in Bolinas in Marin County. He is no longer affiliated with the company that bears his name, and now raises and markets grass-fed beef under his BN Ranch brand.
While Hahn Niman is a good food advocate (she published Righteous Porkchop in 2010, an indictment of the industrial meat system), she also helps her husband run their 800-acre ranch. When she first moved to the ranch, she took a liking to a sweet, white-and-black-faced cow her husband nicknamed "Girlfriend" because, he joked, the animal was her only friend. She convinced Niman to spare the animal from slaughter. "She's the grandmother in the herd now," Hahn Niman says.
In spite of Hahn Niman's soft spot for animals, Defending Beef is likely to land her in hot water with many who would consider her an ally: environmentalists and vegetarians. Hahn Niman is both. Vegetarians and vegans will wonder how someone can both eschew beef and sing its praises. Many environmentalists are likely to recoil from her blasphemy: beef is good for you and the planet. Others may call it self-serving, given her husband's line of work. (If she was in this for the money, she argues, she would have stuck with her well-paying job as an attorney.)
"This book is going to anger a lot of people I consider friends," she predicts. "But there was this widening chasm about what I was seeing to be true and what I was seeing presented in the public discourse. I was really motivated by a desire to set the record straight."
Whether you're a vegetarian or steak-loving carnivore, the book is an eye-opener. Hahn Niman exposes what she calls misinformation and half-truths about the cattle industry held as gospel by many well-intentioned environmentalists. As Abbie Hoffman once wrote, sacred cows make the tastiest hamburgers, and Defending Beef is a delicious dose of reality. On the subject of the urgent issues of climate change, soil health and biodiversity, the book presents beef production done right as part of the solution, not the problem.