Features & Columns
Evntlive Streams Virtual Concerts
Redwood City startup Evntlive wants to bring the concert experience
to audiences outside the concert hall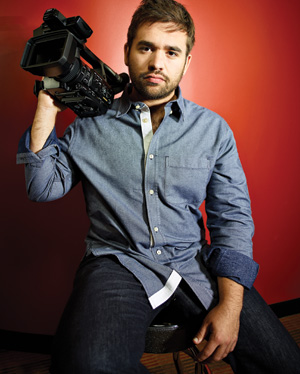 Last year, the music industry reported its highest sales since 1999, driven by digital sales. But even with numbers growing and digital platforms surfacing, live music remains a battlefield when it comes to innovation, especially with live streaming. Bands are spending more time on the road to promote their music, but these efforts remain almost exclusively terrestrial. Most live performances that make it online are shaky and gritty, bootleg shots that show up as YouTube clips.
Evntlive, a new family-run operation based in Redwood City and backed by some of Silicon Valley's most disruptive players, is hoping to change the dynamic. The company launched a beta version in April with a virtual concert hall that will play host to big-name artists performing at venues yet to be disclosed.
Evntlive will offer both free and pay-per-view shows with interactive features to help replicate the concert experience on a user's computer or tablet. It sounds simple, but Evntlive has had to work deep within the music industry to try and change old ways of thinking and ingrained opposition to new media.
Despite general acceptance of some online opportunities, SF MusicTech Summit Founder Brian Zisk says that music affiliates need to embrace live streaming technologies as they emerge in the market in order to meet more fans in the digital space.
"In the last 10 to 15 years, we've been in this mindset that Internet is bad for streaming music," Zisk says. "We need to make a way for the two to work when it comes to live shows. Musicians need to ask themselves, 'How do we as musicians use technology to help those people give us way more money and support than they would have previously?'"
Zisk has also worked with multiple artists-rights organizations and says that the regulations in place now make it hard for even the simplest of broadcasting.
"If you don't get it perfectly right, people could easily extort you for money," Zisk says. "People have gotten in trouble for just doing covers and changing a couple of words in a song."
Evntlive's CMO and co-founder David Carrico is tapping into his experience running music talent agency the Carrico Management Group in Beverly Hills to get artists and labels on board with the new platform. Working to sign artists to major labels, Carrico says he realized that even some of the most successful musicians had trouble funding tours and making money.
"I saw how hard it was for artists to afford going on tour," Carrico says. "I wanted to make sure this was a revenue stream for the artists to boost those incomes so that they can continue to make their art in whatever shapes or forms they want to."
Troy Carter, manager of artists like Lady Gaga and John Legend, was an early industry supporter. "He got very excited about the concept, and warned us it was going to be challenging," Carrico says, "but thought it was a very important piece to the industry and that somebody needed to solve this problem."
Including Carter's donation, the company raised $2.3 million in seed funding from angel investors, including Mayfield Fund partner Yogen Dalal, Tapjoy CEO Steve Wadsworth, former Intel exec Dave House and Silicon Valley Connect's Ellen Levy, and one of "The Fathers of the Internet," Google executive Vint Cerf.
After gaining support, Evntlive started to tackle the biggest hurdles of creating a digital hub for musicians. The first order of business was doing everything they could to present the highest video quality. The company plans to present high-quality video content that's strictly browser-based, as opposed to running on an app—which they say they'll create later. This infrastructure will allow streaming on desktop computers and mobile devices with little to no crashing—a common problem with live-streamed concerts.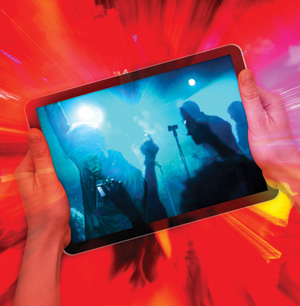 Their hope is that this kind of self-owned structure will help assure music stakeholders they're investing in a high-quality product, which will in turn provide lower risk for the artist. It's a strategy also used by broadcasting company Livestream, which has been around for six years.
"Traditionally, live streaming relies on third-party devices to do the encoding. We're selling and building our own encoding devices," Matt Howe, senior director of business development and music partnerships of Livestream, says.
Livestream has shared the technology growing pains of authorizing issues and, as a result, streams mostly smaller-named artists and venues.
"We try, but the bigger artists aren't able to get clearance," says Matt Howe, senior director, business development at Livestream. "The challenge is the existing licensing is extremely archaic."
Evntlive offers several social features, including toggling with different angles as if you were moving around a concert venue, chatting with friends and checking out artist merchandise or bios, all without leaving the page or "show."
Noted music analyst Mark Mulligan says this kind of customizable experience is necessary in keeping long-term validity. "The next generation of music products must be defined by user experience," Mulligan said as a keynote speaker of the annual Midem music conference. "Rights complexities and stakeholders' concerns must follow that horse of user experience, not lead it."
Of course, YouTube has also navigated live streaming with broadcasts of festivals like Coachella and Bonaroo. However, it doesn't give users personalization options beyond full-screen size and comment capability.
And while other companies such as Ustream, iRock and Quello act as aggregators or on-demand only, a company has yet to have successfully marry both on a grand scale.
Evntlive's revenue-share model gives artists more than 50 percent of profits. Corporate sponsors will fund free shows and the pay-per-view shows give artists back majority profits. The platform is free to use, charging only for pay-per-view shows, which currently range from $2.99 to $3.99.
So far, the platform runs on desktop computers and iPhones, but not on all browsers. It's enabled on Google Chrome for Mac and Windows, as well as the latest Safari browser for Mac, and iOS 6 iPhones and iPads. It doesn't run on Firefox or older Safari versions.
I viewed a live show of singer Natalie Gelman filmed at Evntlive headquarters. While the quality was good, the performance proved occasionally choppy and delayed, which made it hard to maintain my interest. Clicking on the comment box in the upper-left-side of the screen, I was able to view a live chat going on among other viewers. Several viewers were praising the artist with comments like "I love Natalie!"; others were commenting on the new viewing experience, saying, "This is cool!" and "I agree." It proved to be more of a real-time comment box than actual viewer-to-viewer chat, but it does have potential as a fun tool for viewers of artists with larger followings.
With the on-demand show Cold Eskimo Live at Ace of Spades, I enjoyed the sound of the band, which motivated me to explore the social options. I clicked a drop-down menu of tour dates and music samples to learn more about them. Three close-up camera angles offered views from the left, right and center of the stage, perspectives which came in handy as I wanted to watch from different sides of the stage and see different band members.
The quality was of the highest order I've ever seen on any type of video, so I actually wanted to sit and watch the show—something I wouldn't do on YouTube, even for an artist I loved. The same quality had me tuning in to another on-demand show, the Kopecky Family Band at a sound studio, which performed a small acoustic set. Other on-demand shows included backstage exclusives with bands such as EDM group Shermanology, which followed the members as they toured giving exclusive interviews.
Most artists on tap so far are lesser-known names with already existing social-media followings. In its opening week, Evntlive premiered its first pay-per-view and A-list musician, Bon Jovi, on April 25, which streamed live from the concert at San Jose's HP Pavilion.
A Family Affair
"Evntlive is not meant to replace live performance music, but to leverage touring, allowing artists to reach more fans and fans to see more concerts," says Evntlive CEO Judy Estrin, also mother to Carrico. "It's a model where everyone wins—artists can make more money and reach more of their fans and music lovers can experience more concerts."
Estrin, a veteran tech disruptor, has started several successful businesses, including JLabs and LLC, and sits on the boards of such corporations as the Walt Disney Company and FedEx. She is also a former CTO of Cisco Systems and was part of an elite team that developed software that became the cornerstone of the Internet.
Piecing together a technically broken music system was a challenge that Estrin saw worth coming out of retirement for. "I have always been interested in areas that are new and challenging, whether it is from a technology, market or business-model perspective," Estrin says. "Evntlive is pushing the edges in all of these areas."
She continues, "The opportunity to work with my son, David, is proving to be a great experience. We're able to voice opinions and work as a team because we are both experts in completely different sides of the business and our knowledge typically doesn't overlap much."
Evntlive was also co-founded by another family, brothers Alex and Jonathon Beckman. Alex works on video production as chief content officer while Jonathon works on product features and design as vice president.
Garnering an impressive lineup of technology minds, Evntlive founders have taken risks, and now they're asking the music industry to take some, too. "Getting the industry to be willing to take some risk, understanding that this is something that will provide an additional revenue stream over time and not something to be afraid of," Estrin argues.
Whether it's a risk more music stakeholders will adopt, only time will tell. But if anyone can relieve music's proverbial tech jet lag, leave it to the disruptive minds (and their families) of the Silicon Valley.