Features & Columns
Genre Bender: K.Flay
Takes The Indie Road
How a punky Stanford alum ditched her degree, disregarded major
label execs and hacked her way into the music biz.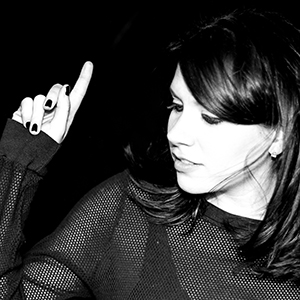 This time two years ago, things weren't exactly looking up for Kristine Flaherty. At 28, the Bay Area transplant was thousands of miles from her hometown of Chicago and looking at a crumbling relationship with a record label, which she'd spent the better half of a decade building.
When she graduated from Stanford in 2007, with a dual major in psych and sosh, Flaherty put a hard stop on any plans of pursuing a traditional or safe profession—choosing instead to chase her passion: hip-hop music.
In the six years since leaving The Farm, she had indeed made strides—independently releasing a string of mixtapes and compilations, and putting out two EPs with RCA Records, home to some of the world's biggest recording artists.
What had begun as a goof, became an all-consuming and very serious career. By the end of 2013, Flaherty was known as K.Flay, not only in her adopted Bay Area home, but internationally as well. She'd opened for Snoop Dogg, scored a feature with Icona Pop and toured with Passion Pit—all groups with whom she shares at least some sonic similarities.
After working with RCA for nearly two years, the label was showing signs of fatigue with her genre-confusion. RCA was unable to fit K.Flay's music into a neatly defined package that could be sold to demographically driven radio stations, and she was unwilling to compromise on her vision. She left around 60 songs and demos on the cutting room floor when she walked away.
But Flaherty wasn't done.
ENTREPRENEURIAL EMCEE
It would seem that the musician picked up plenty of disruptive techniques from Silicon Valley's entrepreneurial culture while studying at Stanford. While RCA's marketing department saw her genre fluidity as a weakness, she correctly identified it as a strength; and while label executives were content to cut their losses and move on, Flaherty failed upward.
The result is Life As A Dog, her debut full-length record. Like recent efforts by Bay Area acts The Limousines and Cellista, Life As A Dog, was a crowdfunding success. The album hit its target on the music-specific, crowdfunding site PledgeMusic in just shy of a week, and, before all was said and done, Flaherty had nearly doubled her ask.
The LP is certainly hard to classify. With both singing and rapping vocals, traditional rock instrumentation, and a hearty dose of electronic production, Flaherty describes her music as a mixture of indie rap, alternative rock and electronic. It's enough to make a major label marketing team break out in hives. But that's just one of its upsides.
K.Flay's genre ambiguity has also led to some interesting and varied touring opportunities for the now 30-year-old artist—ones she likely wouldn't have been offered had her sound been restricted and marketed as straightforward hip-hop. She's played with Third Eye Blind, Carly Rae Jepsen and AWOLNation, and in the summer of 2014, she landed on the Vans Warped Tour, which is primarily a punk festival.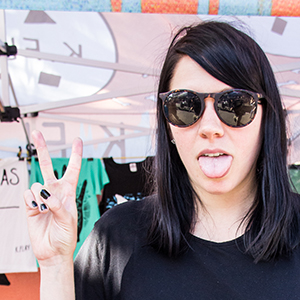 Flaherty says the Warped Tour was very much a catalyzing force in the production of Life As A Dog. The way she tells it, she realized she needed a new album to promote on the tour and managed to finish it in the four months she had before hitting the road.
According to her, the hurry-up offensive push worked out. On the Warped Tour she faced eclectic crowds and drew in unexpected fans. It also helped her grow as a performer, teaching her to manufacture energy in sometimes relentless summer sun—a skillset she had on full display in June at Live 105's BFD 2015, where she rocked an early afternoon set inside the Subsonic tent.
"You kinda have to learn how to create feeling, both onstage and with the crowd, without the use of lights, or atmosphere or vibes," she says, remembering her times on the Warped Tour's Beatport Stage. "You don't have access to that in the morning when you're drinking coffee onstage."
Flaherty is now in the midst of an international tour—opening for electro-soul act LIGHTS on most North American dates and the hard-rocking alternative band PVRIS on the European leg. Joining either of those headliners as a strict hip-hop act would have been odd, but as the genre-defying K.Flay it makes sense. She will also be headlining smaller dates in between major stops; one such interstitial gig comes this Monday, at The Ritz.
For her part, Flaherty seems to enjoy playing the role of pop music chameleon. She cites Missy Elliott as an influence. She likes that Missy doesn't rely on a sexed-up appearance to sell records. Flaherty herself tends to dress in rather utilitarian attire on tour and in publicity photos. She's spent years stomping around stages in black leather combat boots, jeans and a T-shirt—all the while whipping around her long black hair as if she were Andrew W.K.
"(I try) to not focus on some of the visual elements of the way that I look, or the way that the stage looks, and try to focus on maintaining energy and chemistry onstage," Flaherty says. "A lot of the people that influence me, personally, on a professional level, came from a DIY punk scene—I think the emphasis there is less on the aesthetics of something and more on the energy and interaction between the stage and audience. It's more of an emphasis on transparency; sometimes you see a show and it's got great visual elements but sometimes there's 'separateness' between the audience and the performers..."