Features & Columns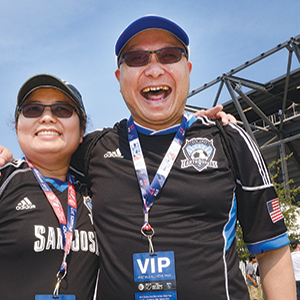 The Pantry
Second Harvest Food Bank
Silicon Valley boasts the third highest GDP per capita in the world, but an unseemly number of the area's residents struggle to find enough food to eat each night, including many students at San Jose State University, half of whom say they've skipped a meal because of tight funds. Recently, Second Harvest brought 15,000 pounds of food into their mobile pantry for students—and a donation in someone else's name means the next generation of leaders won't have to go hungry while they get their education. 4001 N. First St. and 750 Curtner Ave. www.shfb.org
Just for Kicks
Earthquakes Season Tickets
Soccer season just ended and the window to renew or purchase season tickets won't open for a few more months, but for the local soccer lover in your life, there's no better way to deliver them top-quality live matches than seats at Avaya Stadium. Season packages start at a relatively affordable $340. As a bonus, the squad routinely aids veterans' charities and the organization's employees take time each year to clean up a section of the Guadalupe River, so you'll be supporting the team that supports the community right back. www.sjearthquakes.com
Deck The Walls
Citadel Art Gallery
Making rent in Silicon Valley is tough for just about everyone—but especially for working artists. Support local creatives and check a few items off the gift list by swinging by the Deck the Walls gift emporium at the Citadel Art Gallery. Hosted by FUSE, a collective of artists all working out of the Citadel complex of art studios in downtown San Jose, the pop-up shop will be open for three days during the first weekend of December and feature the work of painters, sculptors and other makers. Fifth and Martha streets, San Jose.
Benefitting Books
BookSmart
BookSmart bookstore gives back to the local community by paying it forward with other philanthropic organizations. From collecting books for needy local children, to holiday toy drives, BookSmart gives discounts on items donated for the holidays for organizations, including the Compassion Center, which services all of South County. During the holidays, BookSmart offers a discount to people who purchase books and other items for donation. 1295 E. Dunne Ave Suite 120, Morgan Hill.mybooksmart.com
Look Sharp, Do Good
Ripple Clothing
Buy more than a shirt when you choose to gift with Ripple, "a social good company" that was created by a group of South County high schools students. Ripple works with nonprofit organizations to provide unique clothing that make a difference. For each product sold, Ripple provides a portion of their profits to a nonprofit organization. From training dogs to help people with PTSD, to bringing clean water to a village in Africa, dollars stretch further with Ripple. Their motto: Look Sharp, Do Good. Based in Gilroy, Ripple sells shirts, mugs, hoodies, posters and more. www.rippledesign.org.
POTPOURRI
Get It Poppin'
Funkhouser Design
Having come from a family of creative thinkers, Emily Funkhouser grew up to view art as a way to experience the world. Though she eventually became an educator by occupation, the design school graduate remains deeply involved in the South Bay's maker culture. The San Jose resident sells earth-toned ceramics, which she makes at downtown clay studio Higher Fire and sells at local pop-up shops and galleries. Or you can shop at her online store, Funkhouser Designs, for a collection of whimsical watercolor prints featuring, among other things, pancakes, cookies, cacti and shrimp paired with quotes from Three G Mafia, E-40 and Soulja Boy. www.funkhouserdesign.com.
Old-School Image
School of Visual Philosophy
Lithography—the art of printmaking with oil and water over metal or stone—was invented in the late 1700s to duplicate scripts and mass-produce advertising. But the practice quickly spun off into its own art form. San Jose's School of Visual Philosophy, an art studio in San Jose's eccentric Delmas Park neighborhood, offers lithography classes for $350 per pupil. No experience is required for the course, which introduces students to stone as well as aluminum plate lithography. The art school, which was founded in 2013 by husband-and-wife duo Yori and Dana Seeger, also offers workshops in woodworking, letterpress and sculpting with bronze, cement, paper and clay, among other media. 425 Auzerais Ave., San Jose. www.schoolofvisualphilosophy.com
Coats for Canines
Hound Togs
Sighthounds—namely whippets and greyhounds—are bred for speed and agility, but their tiny waists and protruding chests can make it difficult for their owners to find outerwear that fits. Santa Clara-based Hound Togs offers just the right cut for these slender breeds. Erin Campbell, who sold her veterinary clinic to run the business full time, sews bespoke coats for canines out of fleece, wool or waterproof nylon. HoundTogs.com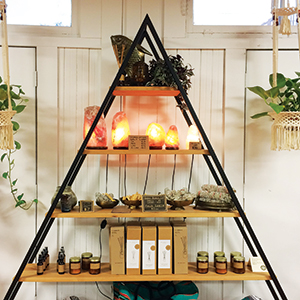 Marry Fashion
Petals and Peacocks
San Jose natives Victoria Velasquez and Ryan Mante met at a fashion trade show, bonded over their affinity for crass, clever wordplay and launched a line of irreverent women's streetwear called Petals and Peacocks. Last year, the husband-and-wife enterprise moved its flagship storefront from Los Angeles back to the South Bay. The brand, which is going on six years in business, has been featured in Nylon magazine as well as online retailers Nasty Gal and Dolls Kill. Petals is right next-door to Mante's other enterprise, a menswear brand co-owned by Christian Lilleland called Breezy Excursion. 2261 The Alameda, Santa Clara. petalsandpeacocks.com
Record Store Day
Streetlight Records
This proprietor of records, tapes, CDs, DVDs and apparel will be having a big-time sale of limited edition items exclusive to Record Store Day on Black Friday. Starting at 10am, early birds will get a free goodie bag with any purchase. Highlight items include the Beach Boys' "Highlights from the Hite and Dorinda Morgan Sessions," the Ramones "Live at the Roxy '76" and various 7-inch singles by the Kinks. Streetlight is the last of a dying breed, and they're certainly worth some patronage. How many other local music stores also double as a live performance venue? 980 S. Bascom Avenue, San Jose.
This DJ
DJ Tito Bell
DJ Tito Bell has been bopping around the South Bay for a while now, producing tracks for local artists like Too $hort, Mistah Fab and Willie Joe. The professional turntablist is available for bookings at your own private event. And it's not uncommon for his paycheck to find its way back into the community, like when he dug into his own pocket to buy 200 tacos and gave them away to the homeless.
American, Man
The Basin
This American restaurant tucked into Saratoga's downtown features some of the area's finest cuisine crafted by head chef Andrew Welch. Blending Spanish and Italian influences, Welch provides top-quality grub while also seeking to support and source from local farmers, butchers and fishmongers. Their pair of 28-person dining halls is a frequent home to philanthropic occasions. And some tempting options include: truffle fries, 24-hour brined duck breast covered in a honey-vinegar glaze and for dessert, the molten chocolate bomb. 14572 Big Basin Way, Saratoga. Private Events: 408.867.1906.
2-in-1
Black and Brown & The Seeing Things Gallery
Many a trendy but cash-poor young person has secured a bit of financial stability by trading in an out-of-rotation but still-stylish garment at this boutique. Plus, Black and Brown helps their roommates, The Seeing Things Gallery, with their annual Frida and Friends blanket drive and art auction to benefit local animal shelters, which takes place Dec 2. Black and Brown is probably the coolest place to kill 30 minutes in San Jose, and it smells nice to boot, thanks to incense sampler packs that can be picked up for $12. 751 W. San Carlos St, San Jose.
Throwing Shade
Warby Parker
Whether you need glasses to read the paper, see road signs or just to shield your eyes from the sun, Warby Parker has you covered. After launching in 2011 as an online-only portal for affordable and stylish eyewear, the brand grew quickly. By 2013, they'd launched their first brick and mortar location, and just last year, they opened a store on the main drag of Santana Row. Beyond the confidence that comes with buying a hip gift, you can feel good about your WP purchase. The company pledges to use a portion of all proceeds to administer eye exams and supply glasses to needy communities. 334 Santana Row, San Jose.
Holiday Hat Trick
So you've got some time off from work and school this holiday season. Don't waste it all playing video games and bingeing on Netflix. Get out and stimulate your mind—and get a little exercise while you're at it—with a trip to the San Jose Museum of Art, The Tech Museum of Innovation and a spin around the rink at Downtown Ice. All three are located within a short jaunt of one another, and now you can grab admission to all three for just $28. This so-called "Holiday Hat Trick" is a great way to support local institutions while saving money (full retail price for a pass to each would be more than twice as much). thetech.org, sjmusart.org, downtownicesj.com
Local Suds
We're now approaching 40 years since the craft beer revolution officially kicked off. There's no reason to still be buying beer from brewers based out St. Louis or Milwaukee. In fact, there's no need to look beyond Silicon Valley. Whether you're buying from the Tied House, Das Boot, Hermitage or Strike, there are so many great local options for suds, it's enough to keep you sampling new ales, lagers, porters and saisons year round. Outside of buying directly from nearby breweries, you can also head to one of the many well-stocked grog shops in the region—like Kelly's Liquors, ISO or Jane's Beer Store, where knowledgeable beer lovers will aid in your quest. Multiple Locations