Features & Columns
The Golden Plate: California's influence on Silicon Valley cuisine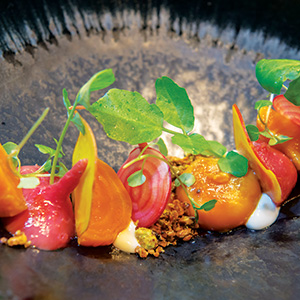 How did it happen? On many a menu the avocado has become shorthand for California.
A "California" omelette, sandwich, crepe or most any other dish invariably incorporates the green fruit, but what about the roughly 400 other crops grown here? Out of those 400, the Golden State is the nation's top producer of about 80 different crops and livestock—and OK, that list does include avocados. But why no love for dates, artichokes, kiwi, pomegranates and sweet rice (or, more predictably, grapes and almonds), of which, according to stats from the California Department of Food and Agriculture, the state is sole producer for the nation?
So no disrespect to avocados, which add nutty flavor, creamy texture and, depending on who one believes, a spate of health benefits to dishes—but local chefs and diners alike know that "California" is synonymous with myriad ingredients and inspirations. Some of the chefs and proprietors taking part in Silicon Valley Restaurant Week shared their thoughts on how the Golden State—in everything from diverse crops to a multifaceted culture—has shaped their cuisine.
Scratch Mountain View - As far as we're concerned our cuisine is American cuisine. We try to stick to that. We have, for example, meatloaf on the menu. It's all-American, it's classic. We put a twist to it that's ours. We try our best to make sure that we use Californian vegetables, like baby fennel. Baby fennel is not a usual meatloaf ingredient. It's a different flavor, and it's local. Coming from the East Coast—I drove here from Washington, D.C.—it's very noticeable, the difference in attention to tomatoes, fresh vegetables, the use of avocado, the color on the plate. When it's fall on the East Coast, everything on your plate gets darker, just like how it is outside. In California, they still demand color on the plate. —Joseph Canlas, executive chef
The Lexington House Los Gatos - Our restaurant is completely ingredient-driven. There's so many influences from Italy, Spain, Portugal, France, Japan. I'd say in our techniques and our cooking styles, we're definitely more French-driven than anything else. I'm looking at a calendar of productivity of seven or nine different farms and I'm doing salads on anything that they're procuring. In Los Gatos, we have some very adventurous and sophisticated diners. A lot of people that come in are really trusting us to put something unique and new on the plate. Next week we're doing a homemade chicken liver mousse. It's served on Watsonville sourdough bread. We're doing pickled apples from Devoto Farms, pluots from any one of several different farms up in Lodi. We're taking these little things that seem inconsequential on the dish and then making them special, just by using the seasonality. —Philippe Breneman, chef/partner
Arya Cupertino & Redwood City - Being a Persian restaurant we're always trying to make everything authentic because that's what people are looking for. We use everything fresh for our stews, the eggplant stew, the green stew, all fresh vegetables. Appetizer-wise as well, we have fresh veggies for everything if you look at them. Persian food in general is very healthy, and the trend just picked up on the Middle Eastern and Mediterranean diet. The whole farm-to-table scene has picked up, I'd say in California more than any other area. —Ferah Hashemi, co-owner
California Cafe Los Gatos - First and foremost I'm inspired by the seasons. I took a tour to the Salinas Valley and I was really inspired by all the produce. I got to meet some of the growers. Right now we have a ceviche that has a local sea bass. We're also serving a peperonata, which is a traditional Italian dish that combines peppers and olives with locally grown bell peppers. I'm doing a truffle mushroom risotto with local mushrooms. We have the liberty to get our hands on anything, and if we celebrate the seasons we have the liberty of doing stuff that identifies with California. All the farms that we use are from within the area, at the most they're 50 miles away. It's a privilege. —Leo Lopez, chef
Siam Orchid Organic Fine Dining Palo Alto - The food that we make here is like the food that we eat in Thailand, but we emphasize presentation. We use some substitutes, but we try to make everything very close. For some of the dishes, the sauce is very traditional, but the meat isn't—like lamb, we don't eat lamb in Thailand. We put the lamb with our curry. This way I would say is more like California style. People are more concerned about eating healthy stuff. Organic has become really popular. Not very many Thai restaurants do the organic. We serve the community and want to support the community, so we get the organic stuff from the local farmers markets. —Alisa Chotibhongs, chef
El Amigo San Jose - We have much more traditional Mexican dishes so we try to find local produce, but some is imported from Mexico. Some of our produce is from local companies and we definitely try to implement these sorts of items through specials. We try to use farmers market vegetables and at our Mountain View restaurant we definitely change the menu about once a month. We've been in business for going on 27 years, we are more of a traditional older restaurant and people in the area look at us that way and expect that from us. —Megan Campey, general manager
Kyusu Burmese Cuisine San Jose - I mix ingredients used in Japanese/Burmese/Indian cooking to flavor local meats like goat. I use a lot of garlic, onion and ginger. Every food is different. —Susan Wyn, chef
LB Steak San Jose - I'm from New England where seasonality is more accentuated. I look forward to new flavors. With each season you're passionate to create new dishes. In California it seems like every year there's different types of squash. The local farmers try to put a twist on so many varietals. —Thomas Ricci, chef
Habana Cuba San Jose - You try to use all local produce and support the local farmers. Cuban food is very simple. I try to go with the flow of what people are looking into. The winter is coming so people won't be as active so they'll want to eat healthier. People want pumpkin because that's what's coming up—people want what the seasons are bringing. —Jennifer Echeverri, owner
Burnt Rice San Jose - We're more of a fusion restaurant than the more traditional Korean place so we cater to the twentysomethings. I believe in using the local areas as far as sustainable type foods, and keeping the economy here going, whether it's using your local fish market or your local produce, then you definitely know it's from here and not from somewhere else. The crowds we bring in are definitely different because they're foodies and they may want something unusual or different, but familiar at the same time. —Chef Ron Deleon
Capers San Jose - We're blessed to be in this area of California with the abundance of fruit and vegetables and produce—and the availability is endless for seafood and beef, as opposed to other areas of the country where it's hard to obtain product on a regular basis. The fact is that we're in the Bay Area with a high population and a great demand. The clientele and the people in the Bay Area know food and appreciate good food. There's always a new trend that everybody is following. The public is very knowledgeable and that makes it great. —Adrian J Mullen, chef/owner
Forbes Mill Steakhouse Los Gatos - There's really corn in everything here in America. In the Midwest it's all corn-fed beef, which is pretty unique. People love corn-fed, especially in America. I'm not from America. I'm from the South of England. In England it's all grass-fed. We're one of the only restaurants that use CAB, which is certified Angus prime. Then we have grass-fed, then we have dry-aged, then we have Wagyu, which is Kobe. Some people love dry-aged. We don't sell as many dry-aged as we do the regular CAB prime filet. That's by far the standard here. Everyone comes in for that. —Brian Weselby, executive chef
The Table San Jose - At this point when creating a dish, I'll look at each individual ingredient and try to have fun, like look at, say, a beet as a singular ingredient and really just try to highlight the actual beet itself. We at first were just tapping into what the neighborhood was actually willing to eat. From there, just kind of building a following. For myself, dining out a lot, all around the Bay Area, that influences some of what I do. I try to bring that to the Silicon Valley, just trying to broaden the dining scene out here. One of the things that people were initially turned off by were the beef cheeks, now it's one of our top sellers. Now we have the ability to gain the trust of people to try something that they didn't think they would like. —Anthony Jimenez, chef de cuisine
Palacio Los Gatos - What I focus on are the traditional festive dishes that the average person eats in, say, Puerto Rico or Brazil or Uruguay or even Mexico—incorporate that with the California ingredients and a little French technique here and there to apply an artistic view to the dish, to freshen it up and make it look more like a Silicon Valley dish, while still keeping the nostalgic part of that dish itself. —Lee Hernandez, executive chef
Park Place Cupertino - Since we're in a hotel, we try to do a lot more in the way of comfort food, which means different things to different people—especially here. We have people from all over the world that stay here. We just try and keep it simple and easy to understand. We try to use a lot of ingredients from right here, local ingredients, seasonal, because you have people coming from everywhere in the country and around the world. We want them to see what we have around here, too. Depending on the season you have everything you could ever want. Tomatoes in the summer time, artichokes right now. We do some Asian-influenced things. Sometimes we do something like ahi tuna with ginger garlic sauce, simple things that speak to everybody. —Brad Kraten, executive chef
Quattro (Four Seasons Hotel) Palo Alto - What we put on the menu is based off the seasons of what we find at the farmers market. All the pastas are handmade: lasagna, rigatoni, all these kinds of pasta. All the pastas are made in-house. I've traveled all around the world and I like the idea to capture and learn new things. California is a fantastic place. The climate is very similar to Italy, more Mediterranean. —Marco Fossati, executive chef
Spencer's for Steaks and Chops San Jose - We have things that have Japanese influence, California cuisine, classic French cuisine. It's not fusion food, but classical offerings and international ingredients. For one of our dishes we have a saffron risotto cake. That's being served with seared sesame ahi tuna that has an English pea and wasabi puree. All of these things are coming from different areas: the Spanish saffron, you have the Italian risotto, you have the seared sesame ahi, which is more Japanese—so it's all over the place. In the Bay Area we have more eclectic palates, just based off the fact that we have access to more high-quality organic produce, and just a market variety in general. The guests that come into our restaurant are expecting us to have nothing less than what they can find at a grocery store, which is everything, here in the Bay Area. —Dinari Brown, chef de cuisine
Three Degrees in Toll House Hotel Los Gatos - Right now we've come out with a smoked trout guacamole with pita chips and we've come out with the Philly cheese steak egg roll. There is a big influence as far as fusion goes. The public expects something different than just basic steak and potatoes. You have so much fresh fish, vegetables, unlike the Midwest where basically the vegetables aren't available. It makes it available for us to play with the foods a lot more and play with the tastes and play with the different varieties of stuff we can put on the plate. —Michael Wilson, director for food and beverage
Lou's Village Restaurant San Jose - I take into consideration the sustainability of ingredients and the price point for our customers. I also believe that people should get what they pay for as far as the experience. It should be something enjoyed, memorable and worth what they're paying. When people go out they want something where they can have a pleasurable moments of time for their friends. Local ingredients are important with my background. If you can support the local produce then people can take pride that we use local ingredients. To me it helps the business relationship with the clientele. —Darrell Rose, chef
The Grill on the Alley San Jose - I think every classification and nationality that's in San Jose enjoys beef. I think beef is always in season. When we do special stuff we try to showcase our seasonality in California, try and get as many local products as we possibly can. We try to keep everything fresh and exciting and new. A buddy of mine grows Brussels sprouts in Half Moon Bay. So we're going to do some charred Brussels sprouts. We're going to do a brown butter and sage kind of spaghetti squash, shred it apart, so it's almost like noodles, do some really intense sage and brown butter in that. And then the sauce, take the brown butter sauce and add a little bit of sherry vinegar in it to get that contrast in acidity. —Andy Hatcher, executive chef
Aaron Carnes, Amulya Datla, Nick Rivelli and Heather Zimmerman contributed to this report.