Features & Columns
Halloween Haunt at Great America
A writer joins the scare force for an evening at the Halloween Haunt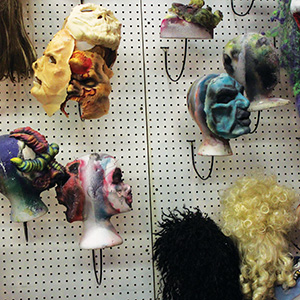 Any old servant can steal the silver, seduce the master of the house or talk smack with other households' servants. As an undead servant in Madame Marie's Massacre Manor, my goal, I was told, was to steal souls.
The doomed Southern mansion—where dwells a practitioner of voodoo—is one of eight mazes at Great America's Halloween Haunt, a series of haunted houses that takes over California's Great America theme park each October. I briefly joined the staff at Marie's manse to take a crack at scaring guests.
"Every maze tells a story," says Clayton Lawrence, overseer of Haunt's sixth year. Among those stories: the Toy Factory, where deranged workers build their own Frankenstein dolls, or a Dia de Los Muertos land where the weeping woman La Llorona and El Chupacabra draw the dead from their crypts—this interpretation of Day of the Dead isn't all that traditional. In addition to mazes, the Haunt includes three "scare zones" and five shows, filled with more ghoulish creatures.
My crash course in scare tactics began at the costume department, where I couldn't resist a rack of petticoats. A set of these frilly skirts were the base of the period costume I would don to become part of Marie's zombie staff.
With as many as 500 performers a night coming through for costume changes, Kira the wardrobe assistant is used to eyeballing sizes and she picked a dress for me that fit on the first try.
A converted fire station houses about 15 makeup artists. They transform performers with an arsenal of masks, prosthetics, make-up, and wigs. In most cases, the newly coiffed and made-up frighteners are in and out the door within 15 minutes. As I sat in the make-up chair, supervisor Heather O'Connell applied layers of cream, cake, powder, and airbrush. She explained how make-up and wardrobe together crafted the look of monsters, but it was up to the performers ourselves to bring them life.
Ghoulishly transformed, I got a quick guide to scares by Branden Holst, talent supervisor of Madame Marie's Massacre Manor.
I learned to assess my environment and choose strategic hiding spots, then quickly burst from cover to surprise guests. Stomping my foot next to guests could make them jump, but touching guests is no-no. I found that some people just have terrible peripheral vision, so I tried not to take it personally when folks didn't even notice me inches away from their faces and kept walking. At least I didn't smell bad.
After an exhausting 20 minutes of scaring strangers, I decided to escape the mansion and return to reality. Back in the safety of employee quarters, head of wardrobe Michaela Lindberg helped me out of my period costume. There, I learned the wonders of baby shampoo for removing layers of stubborn make-up. Fresh-faced and de-ghouled, I returned to the land of the living.
Halloween Haunt at Great America
Fri-Sun through Oct 27, 7pm-midnight
$40.99 at the door/starting at $30.99 online